Trump Says He Will Push For 2020 Stimulus Right After He Said He Wouldn't
Trump changed his mind... again.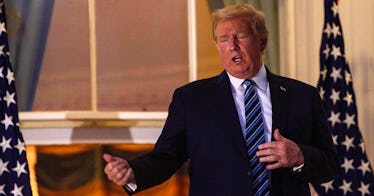 GETTY
Late Tuesday afternoon, President Trump shot off a series of tweets that claimed that he would end stimulus negotiations after Nancy Pelosi asked for more money in the package. Quarantining from the White House with COVID-19, he would, he claimed, resume those talks immediately after he won the election and pass a big stimulus package for, he said, the American people and their businesses.
Implicit in this type of threat — which drew bipartisan rebuke from Republicans and Democrats, given that the vast majority of Americans support another stimulus package — is the unspoken, but clearly hinted at, reality if Trump were to lose the election, suggesting that in the months between November 3 and January 20, Trump wouldn't pass a stimulus package at all. The decision to end the talks, which would have included another round of stimulus checks to the American people and extra unemployment benefits to the tune of $600 extra a week, which is what unemployed folks received at the beginning of the pandemic, was made days after Trump urged lawmakers to jumpstart stimulus negotiations.
Shortly after he announced that he wouldn't resume stimulus talks, the stock market took a nosedive. Hours later, Trump has reversed course again and decided that he supports stimulus talks. Late Tuesday night, Trump called on congress to "IMMEDIATELY Approve 25 Billion Dollars for Airline Payroll Support," including another 135 billion for more Paycheck Protection Program loans. An hour later, he sent out another Tweet, his apparently preferred method and platform of communication for lawmaking and policy negotiations, and said that if he were sent a "Stand Alone Bill for Stimulus Checks ($1,200), they will go out to our great people IMMEDIATELY."
The two concessions don't quite amount to a full-standing stimulus package. People who are receiving unemployment will still struggle to make ends meet. The original omnibus bill, the HEROES Act, which Trump appears to have no interest in looking at, would have also provided direct funding for state and local governments, who can't spend at a deficit like the federal government can. As a result of his refusal to consider the HEROES Act, some $225 billion that would have gone to K-12 and early childhood education won't be considered, despite the fact that schools are in desperate need of funding right now, and would have boosted the maximum food-stamp benefit by 15 percent.
23 million American adults reported that they and their household have struggled with food security. Instead, Trump wants to bail out the airlines, give out money that was already earmarked in the CARES Act but not spent, to the PPP program, give people $1,200 dollars each, and do absolutely nothing else. Unless he changes his mind in a few hours and just tweets it out, which apparently, he is prone to do.
This article was originally published on