Trump Says No Stimulus Until After November. But There's a Huge Catch
Announced in a handful of tweets on Tuesday afternoon, Trump sent stocks tumbling.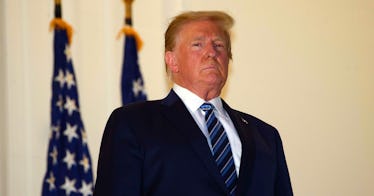 GETTY
A day after Trump tweeted that the American people need a stimulus package, he seemingly abruptly reversed course on Tuesday evening, saying that he will reject any COVID-19 stimulus packages and will wait until after the election in order to pass any stimulus package that might help the American people. Immediately after he tweeted a series of tweets saying that he would refuse to continue to negotiate on a stimulus package until after he "wins" the election — which would have included the $600 per week unemployment benefits that marked the beginning of the pandemic and another round of stimulus checks for Americans, who haven't received money since March when the first round of checks went out — stock markets crashed. After all, polling right now has Trump down across the country, and his threat could very well mean that if he loses the election, he would refuse to help the American people out and force them to go without economic aid until January, when the new president would be sworn in.
"Nancy Pelosi is asking for $2.4 Trillion Dollars to bailout poorly run, high crime, Democrat States, money that is in no way related to COVID-19. We made a very generous offer of $1.6 Trillion Dollars and, as usual, she is not negotiating in good faith. I am rejecting their… …request, and looking to the future of our Country. I have instructed my representatives to stop negotiating until after the election when, immediately after I win, we will pass a major Stimulus Bill that focuses on hardworking Americans and Small Business. I have asked…… @senatemajldr Mitch McConnell not to delay, but to instead focus full time on approving my outstanding nominee to the United States Supreme Court, Amy Coney Barrett. Our Economy is doing very well. The Stock Market is at record levels, JOBS and unemployment… …also coming back in record numbers. We are leading the World in Economic Recovery, and THE BEST IS YET TO COME!" he wrote.
It appears that in the last sentence he was echoing Kimberly Guilfoyle, a Trump surrogate and girlfriend of one of his sons, who spoke at the RNC this summer and gave a speech so high decibel, and so impassioned, that it sparked many memes and was perhaps the most talked about speech at the RNC.
Hours after the tweet-rage session on late Tuesday afternoon, Trump reversed course again, and said he would support some stimulus package amendments, including bailing out airlines, using unused money in the CARES Act to send out more PPP loans, and giving stimulus checks out to the American people, with no word on the billions of dollars in education aid, in food stamps aid, or in unemployment benefits.
If Trump decides to change his mind again, which it appears he might, and decide to not pass any stimulus at all until after the election hinges on one big catch: that he'll ever be re-elected. And if he's not re-elected, it seems the implicit threat is that he won't help the American people in the interim months before he steps down and Joe Biden becomes the president.
Right now, President Trump is down in virtually all polling, and starting to dip in voter support among every age group. Could his decision to suspend stimulus talks be a gambit to help gain voter support? It's possible, but it's hard to see how such a decision would actually help him, given that people across the country, regardless of political affiliation, have lost their jobs, their child care arrangements, their school access, access to health care, and more due to the pandemic. And it could mean that if he doesn't win, he would refuse to give the American people any assistance until 2021, suggesting that he would hold the American people hostage, and not help them out, if they don't give him a vote in the election. What a leader.
This article was originally published on