Trump Has To Be Tricked Into Eating Veggies, Just Like a Toddler
People go through great lengths to hide the nutrients so he'll maybe eat them.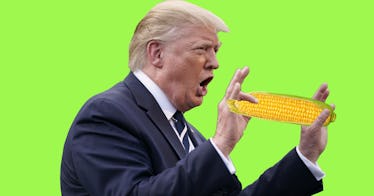 Trying to get our kids to eat their vegetables is a struggle many parents can relate to. Often, we must resort to sneaky practices in an attempt to get our toddler to eat something healthy. We try to hide carrots in spaghetti sauce or switch white rice with a cauliflower-rice alternative and hold our breath, hoping our kid doesn't notice. Well, as it turns out, Donald Trump, the 73-year-old President of the United States, also needs to be tricked into eating his veggies, too. Yes, just like a toddler, according to the President's former doctor anyway.
In a recent interview with the New York Times, Ronny Jackson, the former physician of Donald Trump, talked about his experience working on trying to move Trump to a healthier lifestyle. And it doesn't sound like it was an easy task. Jackson admits he wasn't able to help Trump as much as he was hoping to before he left his position at the White House, resigning in April 2018.
"The exercise stuff never took off as much as I wanted it to," Jackson said to the New York Times. Jackson was working hard; it sounds like, to try to get the President to lose 10 to 15 pounds, his goal was to get an elliptical machine or an exercise bike into the White House, but to no avail.
He was successful in one area, though, making small changes to Trump's diet. However, Jackson had to resort to using a trick that we've used on our toddlers – yes, hiding those vegetables. "We were working on his diet," he said to the Times. "We were making the ice cream less accessible; we were putting cauliflower into the mashed potatoes."
It's no secret that Donald Trump doesn't care much for eating strictly healthy. He's been coined the "fast food president" previously by the New York Times thanks to his love for Big Macs and French fries. This also isn't the first time the 45th President has been called a toddler; there's a whole curated thread on Twitter related to other toddler-like moments.
And this isn't the first story we've heard of the people around the President hiding vegetables in an attempt to get him to eat healthier. Last October Air Force one tried to get him to eat a bell pepper.
This article was originally published on