6 Worrying Findings From Trevor Project's LGBTQ+ Youth Mental Health Survey
Family and community acceptance is still one of the most important things today's youth need.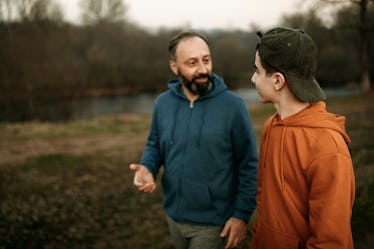 mixetto/E+/Getty Images
The Trevor Project's fifth annual U.S. National Survey on the Mental Health of LGBTQ Young People was released Monday, May 1. The survey offers insight into the unique challenges faced by LGBTQ+ teens and young adults in today's harsh political climate and provides perspective on the day-to-day battles these young people face. The survey highlights the need for communities, parents, and policies to be supportive of LGBTQ+ youth — and the harm kids face when there is no support.
For this year's survey, The Trevor Project, an LGBTQ+ youth advocacy organization, surveyed more than 28,000 LGBTQ+ youth between the ages of 13 and 24 from various demographics to compile data related to mental health, access to care, and the impact of discriminatory state and federal legislation.
"While these survey findings are sobering, they should serve as a powerful tool to help parents and caregivers better understand the unique daily challenges that LGBTQ+ young people face and the ways in which we can help create a safer, more accepting world for LGBTQ+ young people to thrive as their authentic selves," Dr. Jonah DeChants (he/him), Senior Research Scientist at The Trevor Project, told Fatherly.
When asked to describe a world in which all members of the LGBTQ+ community were accepted, respondents described it as a place where people minded their business, did not assume people's gender identities, and where LGBTQ+ people have basic human rights, are allowed to just exist, and can be who they want to be.
Here are six takeaways from the survey.
1. Almost half of LGBTQ+ youth have considered suicide in the past year
Forty-one percent of survey respondents reported seriously considering suicide in the last year, including half of trans and nonbinary respondents and 30% of cisgender respondents. The majority of those reporting suicidal ideation were between 13 and 17 years old. Those who identified as Native or Indigenous, biracial, Middle Eastern or Northern African, and Black were more likely to consider suicide than other ethnicities.
Respondents who identified as transgender or nonbinary were more likely to both consider and attempt suicide than other gender identities, with 23% of trans men and boys reporting at least one suicide attempt in the last year. Sixteen percent of trans women and girls and 17% of nonbinary people reported a suicide attempt.
The rate of suicide attempts in teens as a whole was 9% in 2022, making transgender and nonbinary teens approximately two to three times more likely to attempt to take their own lives.
2. Anxiety and depression rates are holding steady — and high
Seventy percent of respondents between ages 13 and 17 reported symptoms of anxiety, and 57% of respondents in that age group reported symptoms of depression. In respondents ages 18 to 24, results were similar — 64% and 50%, respectively. In comparison, one study published in the Journal of Adolescent Health found that 48% of young adults 18- to 25-year-olds had experienced depression and/or anxiety symptoms in mid-2021.
Nearly 75% of trans and nonbinary youth and 60% of cis youth reported anxiety, while 60% of trans and nonbinary youth and 40% of cis youth reported symptoms of depression.
"We're witnessing a record number of anti-LGBTQ+ bills that seek to censor LGBTQ+ content in schools and restrict the ability of parents to support their transgender and nonbinary kids, and it's clear that these political attacks are having a negative impact on LGBTQ+ young people's mental health," said DeChants.
Although, in comparison to last year's survey, rates of depression and anxiety have decreased slightly in teens who identified as cisgender and gay, lesbian, queer, or bisexual, for those who identify as trans or nonbinary, the numbers did not fluctuate compared to previous findings.
3. LGBTQ+ youth want mental health care — but struggle to access it
With such staggering numbers regarding mental health and suicide risk, providing LGBTQ+ youth with access to mental health care should be the top priority for caregivers and legislators. Eighty-one percent of respondents said they wanted mental health care, and of those respondents, 56% said they did not receive it.
Some of the barriers to care reported included being afraid of being outed, not wanting to get permission from guardians, being afraid to discuss their concerns with a provider, cost, and not being allowed to seek care by parents or caregivers.
4. Discriminatory legislation is harming LGBTQ+ youth in many ways
Waves of discriminatory bills targeting the LGBTQ+ community are moving through state houses, resulting in a rise in mental health concerns among youth. One in three respondents said anti-LGBTQ+ legislation caused them to have poor or worsening mental health most of the time or always, and nearly two-thirds of respondents said the passage of laws such as Florida's Don't Say Gay law, which bans the discussion of gender identity and sexual orientation in schools, negatively impacted their mental health.
Alternatively, 79% of respondents said news of states trying to ban conversion therapy improved their outlook a little or a lot.
"Lawmakers should be implementing policies that protect the rights of LGBTQ+ young people, not exacerbate the dangerous rhetoric that incites violence against our community. Our research also underscores the importance of LGBTQ+ young people's access to affirming homes and schools and the pivotal role that adults can play in supporting LGBTQ+ young people's mental health," explained DeChants.
5. Half of LGBTQ+ youth say they've been harassed due to their identity
More than half of respondents said they'd been verbally attacked or harassed in school because of their sexual orientation or gender identity, and 25% reported being punished by administrators for fighting back against their bullies. Twenty percent of respondents said they had experienced unwanted sexual contact at school due to their identity, and 12% reported leaving their schools entirely due to mistreatment.
Almost one-quarter of respondents reported being subject to threats of physical harm due to their identity or orientation, and LGBTQ+ youth who experienced threats or physical harm were three times more likely to attempt suicide than those who did not experience threats or harm.
Sixty percent of LGBTQ+ youth reported being subject to discrimination over the last year — 51% due to their sexual orientation and a full 64% due to gender identity.
6. The benefits of family and community support cannot be understated
Respondents who reported feeling affirmed at home and in other frequented places were less likely to attempt suicide than those who did not feel supported or affirmed, especially among trans and nonbinary youth.
Trans and nonbinary youth who had access to gender-neutral bathrooms at school and those who were able to use binders, shapewear, and other gender-affirming apparel were also less likely to attempt suicide than those who had no access.