Biden Admin Takes Slew of New Actions on International Transgender Day of Visibility
"Transgender people are some of the bravest people in our nation. But nobody should have to be brave just to be themselves."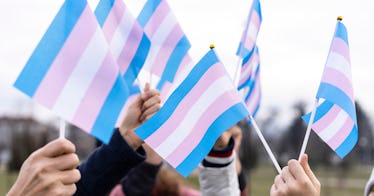 Vladimir Vladimirov / Getty Images
President Joe Biden is marking International Transgender Day of Visibility by announcing a slew of new actions aimed at supporting trans people and protecting their rights. At a time when there are hundreds of anti-trans legislative actions and bills at various stages across the states, bills that seek to criminalize gender-affirming care for minors, schools that discuss LGBTQ+ figures or topics, and kick children out of sports, just to name a few, the Biden administration introduced measures that will help transgender Americans travel more easily and access some mental health services.
"Transgender people are some of the bravest Americans I know, and our Nation and the world are stronger, more vibrant, and more prosperous because of them," Biden said in a proclamation on March 29. "To transgender Americans of all ages, I want you to know that you are so brave. You belong. I have your back."
In a fact sheet, the administration announced new measures aimed at making the federal government more inclusive for transgender people. These aim to support the mental health of trans kids, improve data representation for trans people, and remove federal barriers to government services.
The White House will aim to advance the "dignity, respect, and self-determination for transgender people by improving the traveler experience," the fact sheet explains. "For far too long, transgender, non-binary, and gender non-conforming Americans have faced significant barriers to traveling safely and many have not had their gender identity respected as they travel within the United States and around the world."
These new measures will also make it easier for people to change their gender with the Social Security Administration, and many data collecting services will now offer the option of choosing "X" as their gender as well. This includes when filing for federal aid, filing an employment discrimination complaint, or when filling out forms to visit the White House.
Immediate Federal-Level Changes to Make Travel Safer, More Accessible for Trans Americans
All U.S. citizens will be able to select an "X" as their gender marker on their U.S. passport application starting April 11, 2022
The Transportation Security Administration (TSA) will update its screening technology, replacing the gender-based system with more accurate tech to improve the customer experience of transgender and nonbinary travelers who have previously been required to undergo additional screening due to alarms in sensitive areas
Removing gender considerations when validating a traveler's identification at security checkpoints
The Biden Admin Also Announced Mental Health Supports for LGBTQIA+ Kids, Parents
A new website that offers resources for trans kids and their parents, including best practices for affirming an LGBTQIA+ child, and suicide prevention information
New training is offered for schools to discuss the challenges faced by nonbinary and trans kids, and the strategies needed to support them
Release new information for care providers confirming that providing gender-affirming care is neither child maltreatment nor malpractice, but in fact, helps save kids' lives
These actions are being advanced amid a backdrop of states limiting the civil and legal rights of trans kids and their parents nationwide. Many bills that limit health care access, make helping kids get gender-affirming care a felony, and limit classroom discussion of LGBTQ+ topics have already passed or are in consideration by state lawmakers nationwide. Most recently, Arizona Republican Gov. Doug Ducey signed two bills into law targeting transgender kids in the state. One bill will restrict access to gender-affirming health care for minors, and the other will ban trans kids from playing team sports that correspond to their gender. The same day, Oklahoma Republican Gov. Kevin Stitt signed legislation banning transgender women and girls from competing on sports teams consistent with their gender identity at all public schools. Similar laws already exist in Texas, South Dakota, and many, many more are on the way.