'Toy Story 4' Has An Official Release Date. Here's What We Know So Far.
The toys are back in town.
by Ben Marx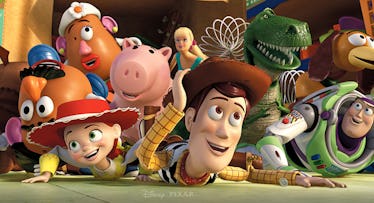 Disney Pixar
Woody, Buzz, and friends will officially be back in 2019. In a Facebook post on Friday, Disney/Pixar announced that Toy Story 4 will hit theaters next summer. While the film's plot is still being kept tightly under wraps with typical Pixar secrecy, a few details give a sense of what we might expect. Here's what we know.
Production on Toy Story 4 was first announced in November 2014, four years after the last film in the franchise. John Lasseter, who directed Toy Story and Toy Story 2, soon came on as co-director alongside Josh Cooley, who directed 2015's Inside Out, with a screenplay by Rashida Jones and Will McCormack.
At the 2015 D23 Expo, it was mentioned that the film would focus on a romance between Woody and Bo Peep, who was mysteriously missing from Toy Story 3. While they wouldn't give any more details on the plot, it was announced that a ton of familiar Toy Story characters would be back, all voiced by their original actors. Along with Tom Hanks and Tim Allen returning as Woody and Buzz Lightyear respectively, other returning actors include Joan Cusack (Jessie), Kristen Schaal (Trixie), Bonnie Hunt (Dolly), Blake Clark (Slinky Dog), and Jeff Garlin (Buttercup). And maybe the best news of all? Randy Newman would return to compose the soundtrack.
As production began ramping up, Toy Story 4 was hit with a series of setbacks and controversies. While Don Rickles was set to reprise his role as Mr. Potato Head, the actor passed away before he could record any of his lines. In 2017, John Lasseter stepped down as director, citing a busy schedule, but soon exited Pixar entirely amidst allegations of sexual misconduct, leaving Cooley as the sole director. Screenwriters Rashida Jones and Will McCormack also dropped out of the project around the same time, stating that they experienced issues with a culture a Pixar "where women and people of color do not have an equal creative voice." Newcomer Stephany Folsom stepped in as the film's new screenwriter.
How will all these changes affect the beloved franchise? We'll have to wait and see what happens when the film hits theaters on June 21st, 2019.
https://www.facebook.com/PixarToyStory/photos/a.128792774129.107191.10498014129/10155824318784130/?type=3&theater