Teen Brothers Spent 8 Years Recreating 'Toy Story 3' With Real Toys Using Stop-Motion Animation
Yes, the entire movie, shot-for-shot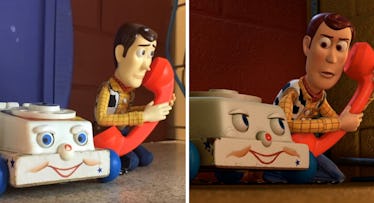 Credit: YouTube / Toy Story 3 IRL; Disney Pixar
The Toy Story franchise is one of the most beloved in Disney Pixar history, and two teen brothers took their love of the movie to new heights. When they were just 15 and 12 years old, brothers Morgan and Mason McGrew took on the task of re-creating the entire Toy Story 3 movie shot-for-shot using stop-motion animation. It took them 8 full years to complete, but they stuck with it and the result is incredible.
Using real toys, people and sets, and their iPhones and stop-motion animation, the pair began this big task in 2010 and finished it just a few weeks ago. "As soon as we saw Toy Story 3, it became our favorite film, and will forever be," Mason McGrew said to BuzzFeed. "We'd always been [such] huge fans of Pixar and the Toy Story franchise that we eventually decided we wanted to pay tribute to the studio and film that we love so much."
If you've ever tried stop motion animation, it takes forever, and patience is necessary. Mason told Buzzfeed that doing a one to a six-second clip could contain "more than 25 video elements." Their full stop motion movie is the one-and-a-half hours long, just like the original movie, which goes to show the level of skill these two pulled off.
"Overall, the hardest thing about this film was staying disciplined," Mason said. "It was very important to us that we finish what we began as kids." When the brothers finally finished their movie, they sought the approval of Disney to post it to social media, and when they got the OK, the movie is now watchable on YouTube.
The brothers documented their 8-year project and you can check that out on Facebook and see all the behind-the-scene work that went into the film. There's no word on if these two are tacking another stop-motion movie recreation, but there is no doubt they're talented.
This article was originally published on