Toy Stores Weren't Prepared for Black Panther's Success
As the hit Marvel film crosses $1 billion at the global box office, toy stores are still treating it like a mildly successful superhero movie.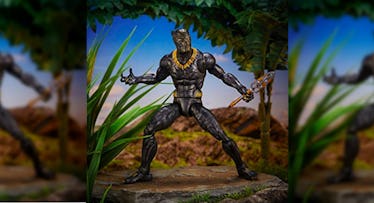 Amazon
Marvel's Black Panther continued its reign at the box office this weekend, earning an estimated $41 million and crossing the $1 billion mark worldwide. And as would be expected, the film's massive success in theaters has translated into successful toy sales, as well. Black Panther action figures and toys continue to fly off the shelves. In fact, the demand for Black Panther toys has outpaced inventory by so much that some experts believe toy stores may have cost themselves big money by underestimating the film's success. They simply didn't order enough.
According to the NPD Group, Black Panther's toy sales came out of the gate strong ⏤ it was the number-three toy license in America for the first full week after the film's release. And while toy stores were prepared for Black Panther to perform relatively well — toys for the movie were available in an estimated 87 percent of stores — most played it safe when it came to how many toys to stock.
NPD toy industry analyst Juli Lennett told Kid Screen that toy store owners carried 11 Black Panther toys on average. This is not a terribly low number. In fact, it's comparable to Wonder Woman and Beauty and the Beast, two of the highest-earning movies from last year. However, the availability of Black Panther toys is significantly lower than the number of toys available for most superhero movies, as Lennett estimates that films like Justice League and the newly rebooted Power Rangers had twice as many toys in stores.
This article was originally published on