This List Shows the Best School District in Every State
What's the top district in your state?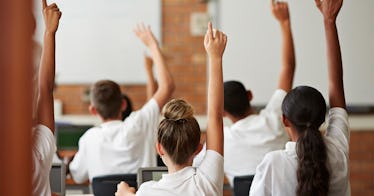 Every parent wants to give their kid the best education possible but it can be hard to know which school district is providing the highest quality schooling for students. From class size to test scores to what the school offers, school quality can be different for every parent. But that doesn't mean that some places won't try to standardize what makes a good school district, and a crappy one.
On that note, Stacker gathered data from Niche to determine the best school district in all 50 states to give parents in every part of the country the knowledge of where they should send their kids if they want them to receive a top-notch education.
Niche's selection of the top district in every state is based on the student to teacher ratio, reading and math proficiency, graduation rate, expenditure per student, and average teacher salary. You can see the entire list below to discover which district in your state is providing the best education for its students.
The Best School District in Every State
Alabama: Madison City Schools
Alaska: Skagway School DistrictArizona: Catalina Foothills Unified School DistrictArkansas: Haas Hall AcademyCalifornia: Los Gatos-Saratoga Joint Union High School DistrictColorado: Cheyenne Mountain School District No. 12Connecticut: Westport School DistrictDelaware: Cape Henlopen School DistrictFlorida: St. Johns County School DistrictGeorgia: Buford City SchoolsHawaii: Hawaii Department of EducationIdaho: McCall-Donnelly School DistrictIllinois: Adlai E. Stevenson High School District No. 125Indiana: West Lafayette Community School CorporationIowa: Pleasant Valley Community School DistrictKansas: Blue Valley Unified School DistrictKentucky: Fort Thomas Independent SchoolsLouisiana: Zachary Community Public SchoolsMaine: Yarmouth SchoolsMaryland: Howard County Public SchoolsMassachusetts: Hopkinton Public SchoolsMichigan: Novi Community School DistrictMinnesota: Minnetonka Public School DistrictMississippi: Petal School DistrictMissouri: School District of ClaytonMontana: Hobson Public SchoolsNebraska: Elkhorn Public SchoolsNevada: Eureka County School DistrictNew Hampshire: SAU 70New Jersey: Princeton Public SchoolsNew Mexico: Los Alamos Public SchoolsNew York: Jericho Union Free School DistrictNorth Carolina: Chapel Hill-Carrboro City SchoolsNorth Dakota: Edmore School District No. 2Ohio: Indian Hill Exempted Village School DistrictOklahoma: Jenks Public SchoolsOregon: Lake Oswego School DistrictPennsylvania: Radnor Township School DistrictRhode Island: Barrington Public SchoolsSouth Carolina: Fort Mill School DistrictSouth Dakota: Brandon Valley School DistrictTennessee: Collierville SchoolsTexas: Eanes Independent School DistrictUtah: Northern Utah Academy for Math Engineering & ScienceVermont: South Burlington School DistrictVirginia: Falls Church City Public SchoolsWashington: Mercer Island School DistrictWest Virginia: Monongalia County SchoolsWisconsin: Elmbrook School DistrictWyoming: Sheridan County School District No. 2
This article was originally published on