Price Tracker Shows Even The Tooth Fairy Can't Fight Inflation
How much will a visit from the Tooth Fairy cost you these days?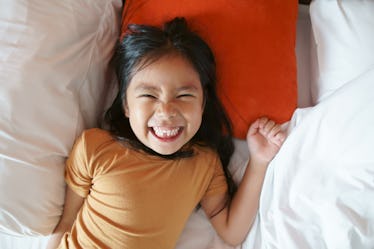 Shutterstock
Yes, inflation is hitting our wallets. Everything is more expensive — from a dozen eggs to used vehicles and rent to medications, it's been a real challenge for families. But did you know that, perhaps somewhat hilariously, even your kids lost teeth are at risk of price gouging? A new tracker purports how much the price of a tooth from the tooth fairy will run you now versus what that same tooth would have cost a year ago. (And it's good news for your kids.)
Delta Dental released its annual Original Tooth Fairy Poll® report that collects data on the tooth fairy, including how much money the average tooth is exchanged for. And it's apparently a booming market.
"Delta Dental has been analyzing the Tooth Fairy's U.S. annual giving trends for a quarter century, highlighting the role of good oral health care habits for children," said Gabriella Ferroni, Senior Director, Strategic Communications, Delta Dental Plans Association.
This year, the poll was conducted between Jan. 6 and Jan. 19, 2023, and 1,000 parents with kids between ages 6 and 12 participated. The survey found the cost of a tooth has hit a record high in the 25-year history of the poll.
"The average value of a single lost tooth during the past year increased 16% from $5.36 to $6.23," the data shows. Lucky kids!
When the survey first began, cash left from the Tooth Fairy was $1.30 per tooth. Today, it's now $6.23 per tooth, an increase of 379%.
"At this rate, in 2048, the Tooth Fairy would be leaving a whopping $30 under the pillow for a single tooth," the survey notes. Maybe we'll pull out our own teeth and see if the tooth fairy will pay us a visit.
Confoundingly and hilariously, the cost per tooth varies across the United States. For example, in the South, the average cost of a tooth is $6.59; in the West, it's $6.25; the Northeast goes for $6.14; and the Midwest average is $5.63.
"We know this time-honored tradition will continue to bring great joy to homes across the country, and we look forward to seeing how the Tooth Fairy's giving changes over the next 25 years," Ferroni shared. "Given the projection, it would be in the Tooth Fairy's best interest to invest in a larger purse."
To read the full Original Tooth Fairy Poll, check out Delta Dental.