We're Getting Old: Watch Tony Hawk Do His Final Ollie 540
Tony breaks down in tears nailing his trick "one last time."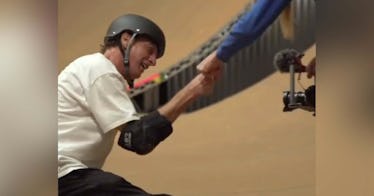 Tony Hawk is, as all Gen X'ers and millennials know, one of the world's most celebrated skateboarders. He made the once-fringe sport cool and mainstream—one of the first to make it big. His career has been decades-long, so this shouldn't come as a surprise, but he's making us feel really old now. Why? Because he just posted a video on his Instagram featuring his last-ever Ollie 540, an increasingly dangerous move that he's not going to do anymore due to his… wait for it… old age. Where did the time go!?
In skateboarding terms, an ollie is when the skater and the board rotate. The number at the end of the ollie is the rotations taken. For example, there is a 180 Ollie in which the board and skater rotate 180 degrees. The ollie 540 is rotating a whole lot of times, a whole way around plus another half. Both the board and the skater, and it's very tricky. The skater has to land back on their board to complete the trick and continue without falling off.
The Ollie 540 is one of the tricks Tony Hawk has mastered and become known for. Now, at 52-years-old, it sounds like he's retiring the trick for good. But he wanted to nail it one last time. The G.O.A.T skater took to Instagram to share an old video montage of him attempting to do the trick. Failing time and time again before he's successful.
In the caption of the video share, Tony said that he's been doing this trick for a long time. And it's not been good on his body.
"I've made over the last 32 years, and my technique improved as time went on," he writes. "But they've gotten scarier in recent years, as the landing commitment can be risky if your feet aren't in the right places. And my willingness to slam unexpectedly into the flat bottom has waned greatly over the last decade."
'So today I decided to do it one more time… and never again," Tony writes.
Because he's the greatest ever, his persistence led him to nail the challenge he put on himself. And he got quite emotional. "Kinda sad," Tony said while choking back tears. "I'm like a little sad. I've never had much finality to anything, but that was definitely the last one I'll ever do."
"F–k it. Happy I made it," he adds. "Thanks, guys, for hanging in there with me."
Apparently, he's planning on selling his last trick as an N.F.T. and will probably make a whole lot of money on that.
We're happy Tony was able to nail the trick one last time. We feel old because if he feels too old to keep up, we're not too far behind.