Tony Hawk and Avril Lavigne's Viral TikTok Makes Us Feel Old AF
The "Sk8er Boi" singer teamed up with the ultimate skater boy of the late 90's to the 2000's, and are we old?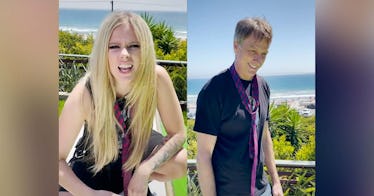 Two legends from the late '90s to the early '00s came together to create a TikTok that is overflowing with nostalgia for millennials and Gen Xers.
Pop-punk icon Avril Lavigne became the latest celebrity to join TikTok and yesterday she posted her first video that featured her lip-synching to one of her most beloved songs, Sk8r Boi, along with a surprise appearance from the ultimate skater boy, Tony Hawk.
In the video, the 36-year-old is singing along to her hit song "Sk8r Boi" while sitting on a halfpipe. Just as the chorus is about to hit, the camera zooms in on Lavigne's loose tie (which is, of course, part of her signature look) and then zooms back out to reveal that Hawk has taken her place.
Hawk quickly smiles at the camera before hopping on his skateboard and riding the halfpipe a few times while showing off a couple of tricks. It's a perfect collaboration that was unsurprisingly adored by fans, as it has been watched over 13 million times in less than 24 hours and has received over three million likes. And it's already earned Lavigne nearly a million followers, with a few fellow celebrities praising the Hawk-Lavigne team-up. But what it mostly reminds us of is being teenagers, listening to Avril Lavigne and playing Tony Hawk's Pro Skater games, feeling like no one understands us at all.
"Everything about this video is perfect," DJ Steve Aoki wrote in a comment that received 16,000 likes in agreement.
Hawk has been on TikTok for a while now, though he only posts occasional videos of him skateboarding or surfing. Maybe with the success of his video with Lavigne, he'll start posting TikToks more, as it's clearly what his fans want. Bring on the nostalgia!!!
As TikTok has grown in popularity, more and more celebrities have joined the platform and, like Lavigne and Hawk, have managed to go viral with some nostalgic content. Earlier this month, actress Alicia Silverstone made her debut on the app with a throwback to her performance as Cher in Clueless. It's really giving us all the feelings (of maybe being old now?)