Tom Hanks Comforts Bullied Boy Named "Corona"
Can he save Corona beer next?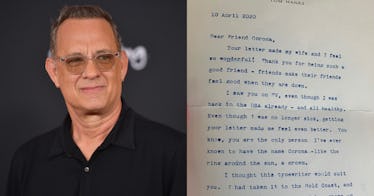 GETTY; 7NewsGoldCoast
When Tom Hanks and his wife, Rita Wilson, were diagnosed with Coronavirus while in Australia, they spent their time on the Gold Coast recovering from the virus until they could safely return to their home in California. While there, Tom Hanks more than once posted photos of a beautiful typewriter he brought along with him to Australia during his unexpected illness and long recovery. In fact, it's a well known fact that Tom Hanks has an extensive collection of typewriters — over 250 of them, which the vast majority of are still in "perfect working order."
That's why, when Tom Hanks received a letter from a 7-year-old Australian boy named Corona De Vries asking how he was doing, he responded two weeks ago using one of his many typewriters — specifically the one he brought to Australia. Corona also mentioned that, despite the fact that he really loved his name, he was the subject of bullying in his town by peers in the midst of the Coronavirus pandemic. Although ridiculous — Corona is the name for many things, including a formerly wildly popular beach beer — kids find reasons to pick on anyone for anything. Hanks, though, takes the opportunity to highlight how special young Corona is for having such a unique name.
In the letter, Hanks said that young Corona was the only person he's ever met to have such a name, "like a ring around the sun, a crown." He also thanked the kid for being such a good friend and, at the end of the letter, said he'd be sending along the typewriter he wrote the letter on as well. "I had taken it to the Gold Coast, and now, it is back — with you. Ask a grown up how it works. And use it to write me back."
In his own handwriting, he wrote the eponymous line from Randy Newman's "You Got a Friend In Me," and signed off. We can't wait to see what young Corona types back.
This article was originally published on