5 Best Reactions From Tom Brady Re-watching Super Bowl LI In Quarantine
Brady rewatched his greatest triumph and it set people off.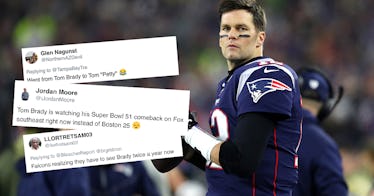 Hall of Fame quarterback, future entertainment mogul, and accused cheater Tom Brady decided to spend a few hours of his shelter-in-place time watching a Super Bowl LI replay on Fox. The new Tampa Bay Buccaneer joined the legions of sports fans taking in classic games while the desire to slow the spread of the coronavirus halts live sports leagues around the world.
For those who don't remember — and the Atlantans who've done their best to forget — LI was the Super Bowl in which Brady and the Patriots came back from being down 28-3 to the Falcons in the third quarter to win in overtime, inspiring a year of gloating from obnoxious New Englanders that only ended when the Eagles out (trick) played them the following year.
Brady took pictures and videos of eight moments of the game, added comments in captions, and posted the series to Instagram. From there, they migrated over to Twitter, attracting comments of their own.
Many pointed out that Brady's post would surely remind the Falcons and their fans of a game they'd much rather forget.
It was a particularly savage move because the Buccaneers and the Falcons are in the same division, which means Brady will now play them twice a year. That's bad news for the Birds; Including this game, Brady is 6-0 against the Falcons in his career with 13 touchdown passes to just two interceptions.
New England fans didn't seem angry at Brady in the comments, but that doesn't mean they're happy to be reminded that he won't be their quarterback if and when football season starts again.
This article was originally published on