Tokyo Faces Rising COVID Cases with Olympics Set to Begin
Could the games be in trouble? Experts are concerned.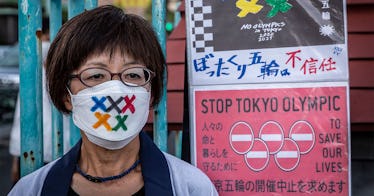 GETTY
After being delayed a year, the Tokyo Olympics are set to begin this Friday but there are growing concerns among experts about whether the games will actually be completed due to the looming threat of COVID-19.
The current numbers show a significant decline from the peak in May but the number of daily cases in Tokyo is unquestionably on the rise, as the city reported over 1,000 new cases on both July 17 and 18. The city is taking preventative measures to keep the virus from spreading, including not having spectators at the events, limiting open hours for bars and restaurants, and encouraging residents to wear masks.
These are already less than ideal circumstances and with more than 56,000 people entering Japan for the Olympic games, a surge in cases feels inevitable. Several athletes have already tested positive, including an unnamed U.S. gymnast. A large portion of the Japanese population does not even seem to want their country to host the games and has expressed their frustration at tens of thousands of people being allowed into the country during a time when cases are rising.
A major part of why experts are so concerned is that Japan has a much lower vaccination rate than the United States, as only 22 percent of citizens are reportedly fully vaccinated. Two of the biggest reasons for this low rate is that Japan did not begin vaccinating citizens until late February and for several months, the country only administered the Pfizer vaccine, which greatly limited its supply.
Does all of this mean that the Olympics are a sure-fire disaster? Not necessarily, the NFL, MLB, and NBA all faced similar circumstances last year and were able to ultimately finish their seasons. But it is clear that Tokyo is facing some major challenges right as the Olympics are set to begin and if things get worse, the games could be at risk of getting called off.