Toddler's Viral Metal Remix of 'Twinkle, Twinkle Little Star' Absolutely Shreds
It's surprisingly catchy.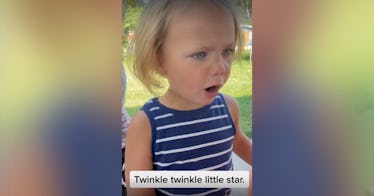 Some songs seem to be universally loved in childhood: "Itsy Bitsy Spider," "The Wheels on the Bus," "Twinkle, Twinkle, Little Star," etc., etc. The songs are predictable, calming, and a great way to introduce kids to music. The arrangements of the songs are nearly essential, but one toddler has proved there's no harm in switching up the old classics with a metal version. And when she did – it just hit different – and we love it.
A three-year-old toddler has gone viral on TikTok after her mom shared a video of her singing the popular kid song "Twinkle, Twinkle Little Star." She's got a whole lot of energy, and the toddler puts all that effort and force behind her rendition of the song. And her version is truly unique.
It's not the version we'd want to test if we're trying to get our newborn to sleep. But it might be the right mix of rhythm and intimidation energy necessary to convince a toddler to do anything they don't want to do. And this little girl has her vibe, and it's what the world needs more of right now.