ICYMI: Toddler Fakes Naptime In Hilarious Viral Video
Thankfully, the kid's hilarious attempt at fake-sleeping was caught on camera.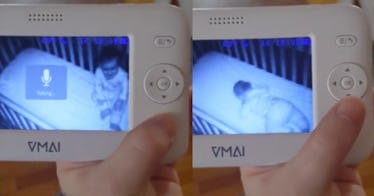 via Rumble
A viral video of a toddler pretending to be asleep when caught sitting up by their parent on the baby monitor is going viral for all the right reasons.
Whether you were a kid hoping to get carried from the car into your bed or a parent hoping to not have to deal with your child crying at 3 a.m., we've all pretended to be asleep from time to time. And one toddler's hilariously bad attempt at fake-sleeping was caught on camera, as they quickly tried to act like they were passed out despite clearly sitting up and looking wide awake moments earlier.
The video shows the child's mom watching them via a baby monitor and, like mom, we can clearly see that the kid is very much awake, as they are sitting up and even moving around a little bit. Mom decides to let her kid know that she can see what they're up to.
"Are you sleeping?" mom says to the kid through the baby monitor.
Realizing that they have been caught, instinct kicks in and the child tries to fool their mom by doing an absolutely terrible job of faking sleep. The toddler quickly turns around and lies down on their stomach, hoping that their mom will forget what she had seen just seconds earlier. The attempt obviously fails and the toddler's mom can't help but laugh watching the half-assed cover-up.
But why even pretend to sleep at all? Why did the child almost instinctively lie at this moment? According to Patrick Coleman, Fatherly's parenting editor, this is part of the natural development of a child's brain.
The kid, per Coleman, is working on their theory of the mind, which is the idea that people can have thoughts and feelings, and perceptions that are different from their own. It's something that most babies don't develop until they hit toddlerdom — and seeing it happen in real-time is a great sign that everything is growing in your kid's brain healthily and normally. So the kid lying is great. They believe that if they look like they're asleep, the parent will think they are asleep — because they've probably been conditioned to understand that being asleep is good, and not being asleep is bad! The toddler is growing brains and, luckily, the mom found it funny.
"You can only stay sane if you find this shit funny," Coleman said.
This article was originally published on