This Toddler's Viral Reaction to Riding an Escalator Is Mesmerizing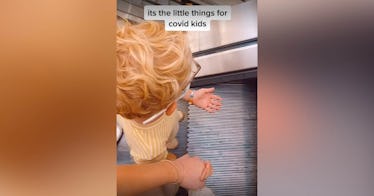 This has been a long year and a half for many of us. The pandemic had us all more stuck to our homes than normal. Parents of little kids haven't had access to a safe place to take their kids. And a viral video of a toddler heading out into the world after COVID-19 lockdowns is proof. His reaction to riding an escalator for the first time has gone viral, probably because it's equal parts adorable and a reality check.
TikTok user almostmakesperfect recently posted a sweet clip of her son and herself out of the house. It looks like they're at a mall or another indoor shopping center. Riding up the escalator while holding on to mom's hand, the little boy was completely mesmerized.
Looking around, he hears his dad tell him they're up on the third floor. "We're on another floor," the little boy says with the most adorable excitement in his voice. "What a day!" Mom shared the clip with the caption, "it's the little things with covid kids."