3 Ways Biden Can Strengthen Laws Protecting Assault Victims In Schools
Betsy DeVos took a hammer to Title IX in her tenure in the DoE. Here's what Biden could do to save it.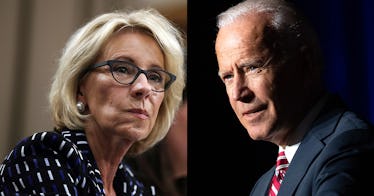 Getty
Will students public schools and colleges be safer under the forthcoming Biden administration than they were under Trump? There are reasons to believe the answer might be a cautious "yes." Here's what Biden's take on Title IX might mean for families.
When President-elect Joe Biden was on the campaign trail, he campaigned time and time again on restoring Title IX regulations — a series of rules and guidelines for how school campuses in the K-12 and college sphere should deal with sexual assault allegations — that were stripped back under the Trump administration. Now that the President-elect is set to assume office on January 20, victims advocates, women's organizations, and the President-elect's own nonprofit to address sexual violence, "It's On Us" are all starting to look at ways that Biden could undo Betsy DeVos's damage to Title IX, which limited the avenues of redress sexual assault survivors had and bolstered the rights of those accused of sexual assault.
It turns out that the options for Biden to overturn the new Title IX regulations, which had been universally panned by victim's rights organizations and even some universities and schools, are limited. Here are the 3 major ways that Biden could overturn the Trump-era Title IX rules and reinstitute those set under the Obama-Biden administration in 2011.
He Could Go Through The Formal Rulemaking Progress
Betsy DeVos might be bad for children, but she's also good at being bad for children and students across America. Case in point: the process with which she successfully, if controversially, rolled back the Title IX regulations that were in place when Trump and her own Department of Education came into power. DeVos purposefully made the process of rolling back those rules as formal as possible — therefore ensuring that it would take a lot of time, and a lot of effort, to undo what she had done in her time as DoE head.
President-elect Biden could do this, indeed, and it might be one of the most ironclad ways to undo the rules that Devos put in place, which critics say place an undue financial burden on schools, force the accused to be directly accused by their accuser, and could limit the people who do come forward about their assaults. But it could take two years for the Biden administration to do it this way — which would take lots, and lots, and lots of time. That is time that some students don't necessarily have.
He Could Go Through Congress
Because of how long it would take to go through the formal rulemaking process to reinstate old Title IX rules, Biden could rely on Congress to pass legislation that would strengthen Title IX for the rights of sexual assault victims on college campuses. But unless he has control of the Senate — which won't be confirmed until the Georgia Senate runoff in January — this avenue of restoring Title IX is probably not going to be possible.
He Could Put The Rule On Hold Due To Ongoing Lawsuits
There are a number of lawsuits currently being litigated in courts across the country about DeVos's actions re: Title IX. One lawsuit, organized by a number of victims rights organizations, is going to trial in Massachusetts federal court — and 18 states and D.C. have filed suit against DeVos as a method of blocking the regulations. These cases are ongoing, of course, but Biden could put the rule on hold until the suits are settled, which would stop it from taking place across the country. In the meantime, they could issue their own guidelines and regulations. This isn't air-tight — suits could be filed to force the Biden admin to enforce the DeVos-era Title IX regulations — but it is a potential means to an end.
Either way, it looks like DeVos's disastrous ruling on the rights of students will be upheld for at least a few years. But just because it will be around for a while doesn't mean it will be around forever.