Survey Reveals What Parents Spent Way More Time Doing in 2020
The pandemic year changed the way we all spent our time, especially for parents.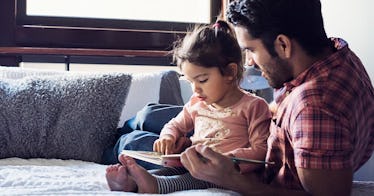 A new survey shows that parents shifted their time around in 2020, spending more time on certain activities than others, thanks to the pandemic and the lockdowns.
The pandemic year has been a struggle for parents who had to juggle home or remote schooling alongside their jobs. But one small silver lining in it all is it's helped parents spend more time with their kids. At least that's what one new survey shows.
Data was compiled by FlowingData from the Bureau of Labor Statistics' American Time Use Survey, where participants were asked to report activities they do within 24 hours. This is an ongoing survey with reports published each year. The 2020 data looks dramatically different from other years, as so many people were stuck at home in ways that had never been seen before.
FlowingData took the numbers from the published survey and created charts based on what activities people spent time doing, and how much time they spent doing those things, between 2019 and 2020.
Overall, the activity that saw the most significant increase in time was listening to the radio, and doing home repairs and upgrades were another that jumped as well. But when we look at households with children, we also see that parents were spending a lot more time with their kids.
Specifically, parents reported more time was spent playing non-sport-related games and activities with their kids, doing homework with kids in the home, and reading to/with kids as well. Of course, there was also more time spent playing games and calling our neighbors and friends. The median time spent eating and drinking also slightly increased, as did the median time spent experiencing sleeplessness.
The median duration of time spent on household organizing went up, but the upper limit went down, suggesting to the website that people spent more time overall on home improvements but those who spent a lot of time on the activity prior to the pandemic put their attention elsewhere — probably because they had nothing to organize!
People also spent more time running, which makes sense because it's one of the safest solo exercise activities, as well as weight lifting and strength training. A significant portion of people just can't remember what they were doing with their time, which… fair.
But that time has to come from somewhere, and according to the data compiled by FlowingData, the time spent on health-related self-care went way down, as did traveling and dropping off and picking up kids.
Travel for religious or spiritual practices dropped, as did travel for personal care and travel for relaxing and leisure, for obvious reasons.
As for time spent homeschooling, though it would make sense that the time would have increased across the board, it was actually split on how much time people spent on it, which is very surprising. The median duration of time spent homeschooling kids actually decreased slightly. Physical care for household children also decreased on the median very, very slightly.
As FlowingData points out, it would be interesting to see these data points sorted by different demographics to get a more precise feel for how parents had to shift things around to make this all work.