How Tim McGraw And Faith Hill Found Their Second Honeymoon Phase
After 27 years of marriage and raising two kids together, Tim McGraw and Faith Hill have entered uncharted territory in their marriage — and are all the happier for it.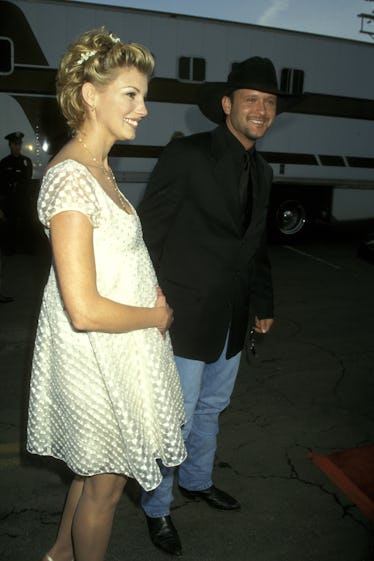 Jim Smeal/Ron Galella Collection/Getty Images
There are so many different stages you go through as parents, from the sleep-deprived newborn era to becoming bonafide parents of big kids, to ultimately navigating life as empty nesters. No matter which phase is your favorite — some swear by the baby years, others love their new relationship with their young-adult children — there's something fun and challenging about each phase. For iconic country music stars Tim McGraw and Faith Hill, who have weathered 27 years of marriage and raising two kids together, their next adventure is the empty nest phase, and they're giving future empty nesters hope.
The country music couple, who have been married since 1996, are parents to three young women: Gracie, 26, Maggie, 24, and Audrey, 21. The empty nesters have had to make a huge adjustment since their last kid left the nest.
"You're used to getting up in the morning, taking kids to school, going to softball practices and basketball practices and cheerleader practices, and all of a sudden, all that's gone when your last one leaves," McGraw said recently at a live show.
"It was tough at first," he continued. "I think it's always harder on mom when the girls go away." And that was true for Hill, who, according to People, prioritized raising their kids over her career since 2008, and the shift has been a big change.
"It's the thing I've spent the better part of the last 10, 15 years doing," Hill said in 2021 about the shift. "I'm not going to lie — it's very hard to let go. Our job is to give them roots and wings. Sometimes that's an easier thing to say than others."
However, the adjustment has been going well, and they're really enjoying spending more time together, with McGraw saying recently at the same show that they've "quite enjoyed" focusing on themselves. "Now we kind of like having our time to ourselves, and it's kind of honeymoon time again," he added.
While the adjustment can be jarring and a challenge for many empty nesters at first, the good news is that research suggests parents are happier when they become empty nesters, which seems to be what McGraw and Hill are experiencing now.
In 2019, a massive European study of over 55,000 people 50 years old and up looked at "subjective well-being and mental health in old age." The study found that the adults in the study who were parents were happier overall, including fewer symptoms of depression with higher levels of life satisfaction. But there was one big catch — these benefits only came when their kiddos moved out.
"As all parents know, parenthood can often be exhausting. The main psychological benefits may accrue once the kids get older and have left the home, and later provide social support," economist Stefan Trautmann, co-author of the European study, said to Fatherly.
So, while McGraw and Hill acknowledge there's a disorienting shift when you're no longer focused on raising kids and they're off doing their own thing, the empty nesting phase has some beautiful perks.