Tilly Ramsay Flames Gordon's Cooking Again In Viral TikTok
The lauded chef can't catch a break.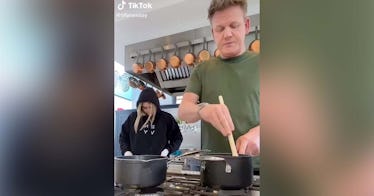 Oh, what would we do without TikTok and Tilly Ramsay's amazing sense of humor? The platform that gives us catchy songs that don't leave our brain and dance moves we wish we could pull off also lets us giggle at a celeb chef (her famous dad, Gordon Ramsay) known for being tough who appears to be a total softie with his kids. We can't get enough, and Tilly Ramsay shared a video picking on her dad that has left us in stitches.
I'm sure we all know who Gordon Ramsay is. He not only owns some of the most famous restaurants in the world but hosts some of the most popular TV shows. He's known as hard to impress and seems to find joy in screaming at people when they're no good at it. There are compilation videos of the unique insults he throws at people. Contestants on shows like Hell's Kitchen and MasterChef are afraid of him.
But his daughter Tilly isn't afraid. Not even the slightest, and she's often roasting her dad on social media. The latest video is a hilarious burn that only she could get away with. She prefers her mom's cooking over her dad's.
The video starts with Gordon in the kitchen stirring something in a pot on the stove. Tilly is in the background dancing with her head down, seemingly very unimpressed. The caption on the screen reads, "when dad says he's cooking dinner…"
The video then switches to Tilly running into the kitchen, dancing in an upbeat, super happy kind of way. This time with her mom stirring something on the stove. The caption changes to, "vs when mum says she's cooking dinner."
Ouch.
When Tilly shared the video on TikTok, she added the caption, "Guess who's cooking I prefer 😳🤫." The question was very clearly answered in the video, and we're still chuckling.
It's not a surprise that the video went viral. People love when Tilly features her dad on TikTok. So, one with a burn this painful was sure to hit out of the park. So far, there have been more than 45 million views and more than 42,000 comments.
"When your dad's food is so famous you are over it," one person wrote in the comments section.
"Imagine having one of the best Chefs as your dad but your moms cooking is better," another said. "Yikes."
Gordon typically reposts the videos he's featured on from Tilly, but not this one. And that might be what makes it even funnier.