This TikTok Toddler Chef Is A Viral Prodigy — Watch
I think we found the next Gordon Ramsay.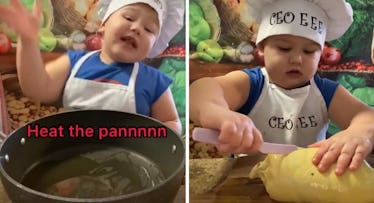 TikTok / ilirian_cooks
Some kids are born prodigies, somehow just coming into the world with an innate ability to do something really well. We've seen sports prodigies. We've heard of kids who make it to university before they're old enough to drive. And then there are those who find their passion early. Like TikTok toddler Ilirian Kameraj. He is only 3-years-old but he's already clearly meant to make waves in the culinary world.
Ilirian has gone viral on TikTok, several times actually. All the views come from people who love his passion for food (and the adorable way he teaches the world how to cook.) Even at his young age, the mini chef is an expert, and he's mastered complex dishes grown adults struggle with.
In one video, which had amassed over 11 million views, the skilled toddler takes on one of the most challenging recipes: the beef wellington. It's notoriously hard to flawlessly execute each step, and Ilirian followed Gordon Ramsay's recipe. Yes, the shouting was included.
The videos are quick, choppy, and the hilarious sound bites of Ilirian announcing each next step is why we love it.
"Heat the pannnnn."
"Make it golden."
According to an interview with Today last year, Ilirian's love of cooking grew out of quarantine boredom, according to his mom, Dorentina. Then 2-years-old, Ilirian's interest spawned off a Blippi YouTube video showcasing a baker. He wanted to join in and make cupcakes.
"We started with cupcakes, easy stuff," Dorentina told Today in 2019. "Eventually, he advanced to roasted chicken."
Now, his TikTok channel has 3.2 million people who follow along. Some of Ilirian's most charming videos are blooper reels of his kitchen mishaps. Featuring his adorable toddler giggle when something goes sideways is exactly the content we need to see more of.
Watch out, Gordon. Ilirian is coming for your cooking crown.