TikTok Mom Who Brought Toddler To Job Interview Is Gifting Free Child Care
Having access to child care should not be a barrier to get to an interview, and one TikTok mom who famously didn't have that is giving back.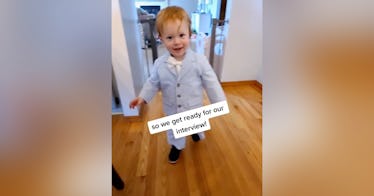 A couple weeks ago, Maggie Mundwiller, a mom of two, recently went viral on TikTok for sharing her unique experience taking her toddler along with her to a job interview. She didn't have child care when she was asked to go in for a second interview. However, the workplace said they were child-friendly, so Maggie brought her little one along. Her video went viral, but along with the millions of views, her video also sparked an important conversation — how a lack of child care can impact parents looking for a job.
So in the aftermath of her viral video, she's teamed up with Helpr, a child care tech company, to do something about it.
Maggie's video, posted to her TikTok profile on June 22, went super viral. It accumulated over 9.7 million views as she and her son, Mylo, got ready for their interview. It was wonderful to hear a company be so accommodating, allowing Maggie to bring him along, especially given the whole pandemic.
"It's really disappointing because I've had to miss opportunities throughout COVID," Maggie said in an interview with Good Morning America.
"The doctor's recommendation was to keep him isolated, keep him at home. So it was really just our family unit in our home, so I didn't have any additional support to help with Mylo while my husband would go to work and I was at home to even do a Zoom interview."
That's why her video went viral. Because the company wasn't making her choose between the second interview or child care. The reality is that most workplaces aren't accommodating to working parents like this.
But they really should be – not just because parents are still juggling the impossible with the pandemic, and not just because it's the right thing to do, but because the economic cost for society to keep parents out of the workforce depresses wages, the GDP, and stops innovation. It's a huge drain on talent. And it keeps parents struggling economically.
This is why Maggie has teamed up with Helpr. Together, they're giving away 500 hours of child and adult care to people who need reliable care while they attend job interviews.
"While it was cute that I was able to bring Mylo along on a recent interview," Maggie said in another video posted to TikTok explaining the partnership, "I know it's not always that way, and so does Helpr. Child care should not be a barrier for you to be able to go to an interview or go to work."
Maggie explains that to take advantage of the offering, you need to follow her on TikTok and Helpr on Instagram. From there, click the link in her bio to claim your three hours of free child care on behalf of Helpr.
According to the giveaway details, participants will need to be prepared to offer proof of an interview. The first 150 people to apply will qualify. The last day to enter the giveaway is July 23, 2021, and the care hours will expire by December 31, 2021.