TikTok's Impact on Kids' Mental Health Under Investigation by 8 State Attorney Generals
TikTok has our kids' attention, to the tune of 25 hours a month. But how, exactly, is it keeping them there — and is it doing harm?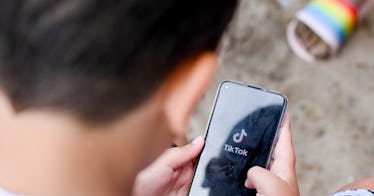 Getty Images
TikTok is under fire from a panel of state attorneys general who want to determine if the popular social media platform has negative impacts on young people's physical and mental health. In its six years of existence, the short-form video sharing service has grown to 80 million U.S. users with a full 25% between the ages of 10 and 19 years, according to statistics compiled by Statista. The average TikTok user spends over 25 hours each month on the app, a number that far outstrips time spent on other social media platforms. Beyond its ability to hold a user's attention, critics and experts argue that the platform may be doing long-term harm to kids' mental health. Such claims are now under formal investigation.
The bipartisan coalition, led by Massachusetts' Maura Healey alongside attorney generals from California, Florida, Kentucky, Nebraska, New Jersey, Tennessee, and Vermont, plans to look further into the platform's recommendation algorithm. "The investigation focuses, among other things, on the methods and techniques utilized by TikTok to boost young user engagement, including increasing the duration of time spent on the platform and frequency of engagement with the platform," according to a statement from Healey.
TikTok higher-ups have been tight-lipped regarding what drives their algorithm — the source of that engagement that experts worry could be harmfully addictive or otherwise impactful to developing brains. Most of what the public knows about the algorithm came from a document leaked by a former employee concerned that TikTok's tendency toward boosting "sad" content might trigger mental health issues in users. This lack of transparency from its parent company, Beijing-based ByteDance, is one of the red flags cited by the investigative team.
Furthermore, there is evidence that teenagers who spend a lot of time on the platform may develop tics, depression, anxiety, and problems with working memory.
TikTok isn't alone in the spotlight. The mental health impact of the Internet and social media on kids has been a hot topic on the national political stage. The scrutiny recently lead to an ongoing investigation of Instagram following leaked documents showing that Meta/Facebook executives ignored evidence that the photo-sharing platform causes mental health problems in teenagers.
In his State of the Union Address, President Joe Biden called upon Congress to pass laws addressing privacy and advertising to children via social media platforms. "We must hold social media platforms accountable for the national experiment they're conducting on our children for profit," Biden said. "It's time to strengthen privacy protections, ban targeted advertising to children, demand tech companies stop collecting personal data on our children."
Since social media can feel like an unstoppable force in the lives of our children, it's essential for parents to have the tools to keep their kids safe online. In a world where clicks are more important to companies than the well-being of their user bases, teaching kids how to safely navigate the web is vital to ensuring their safety. Fatherly, with the help of experts in the field, compiled a list of internet safety tips to help educate both parents and kids about how to navigate the sometimes murky, sometimes confusing, and sometimes dangerous waters behind our screens.
This article was originally published on