What the TikTok Ban Means For Parents With TikTok Teens
Here's what the potential TikTok ban means.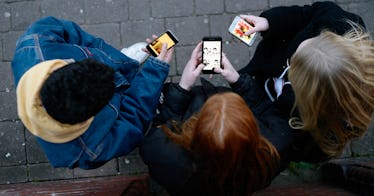 On September 18, 2020, the Trump Administration and the Commerce Department announced that they would be taking a major step to limit teen's access to one of the most popular applications on social media, TikTok. That action? The administration, alongside the Commerce Department, published an executive order against both TikTok and WeChat that said that by Sunday, September 20, access to TikTok and WeChat would be severely limited. This should affect some 100 million users who use the mega-popular apps.
What's Going To Happen With TikTok and WeChat?
On Sunday, September 20, the Executive Order says, TikTok and WeChat will be removed from the app store. That means that there will be no new downloads of TikTok, a globally monumental app, and that users won't be able to update TikTok when the app has regular maintenance. Updated versions of the app will not be able to be downloaded after Sunday.
WeChat will be hit more harshly off the bat — starting Sunday, it will be illegal in the United States to "host or transfer internet associated with WeChat." Funds or payments can no longer be transferred through WeChat by Sunday, and any content delivery networks, internet transit, or peering services will be made illegal. TikTok should expect to experience the same thing by November 12, nine days after the 2020 election. Apps that are created as workarounds to these restrictions will also be penalized and punished and considered illegal.
What Does The Executive Order About TikTok and WeChat Mean For Users?
Right now, it's hard to tell. If the Executive Order is enforced or enforceable, it could mean that by Sunday, no one new can download the TikTok or WeChat apps. It also means that, while the administration won't force people to delete the apps, the apps can never be updated in The United States. So, if you've been wanting to download TikTok, download it now — otherwise you won't be able to starting on Sunday, September 20.
Is The TikTok and WeChat Ban For Real?
Maybe. While WeChat isn't in talks to be bought by anyone, Oracle, an American software company, has been in talks to purchase TikTok since the Trump Administration said the app had to be bought by an American company. Oracle has until November 12 to purchase the app — and if they do, some bans could be reversed.
This article was originally published on