A Tiger at the Bronx Zoo Just Tested Positive for the Coronavirus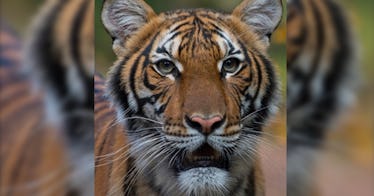 WCS
A tiger at the Bronx Zoo has tested positive for the coronavirus that causes COVID-19 according to the USDA National Veterinary Services Laboratory in Ames, Iowa. It's the first confirmed case of the virus in zoo animals, though a Belgian housecat and two dogs in Hong Kong have also tested positive.
Nadia, a four-year-old Malaysian tiger, received a test after she developed a dry cough. Her twin sister Azul, two Amur tigers, and three African lions displayed the same symptom and are assumed to also have the virus. Despite low appetites, all are "bright, alert, and interactive with their keepers" and expected to make a full recovery.
The Wildlife Conservation Society, which runs the zoo, says that an asymptomatic zookeeper infected the animals. It's implemented unspecified preventative measures designed to prevent any further transmission of the virus.
The zoo has been closed since March 16, but even if it was open zoo guests would not really be at risk of contracting it from the animals. That's not just because, unlike some people, the Bronx Zoo keeps its big cats physically separate from the general public.
"At this time, there is no evidence to suggest that any animals, including pets or livestock, can spread COVID-19 infection to people," a USDA statement read.
The initial animal-to-human transfer that happened at a market in Wuhan, China, notwithstanding, there still seems to be more cause for animals to worry about getting the virus from humans than humans to worry about getting the virus from animals. That doesn't mean that you should be cavalier about how you interact with animals.
The CDC says that "because all animals can carry germs that can make people sick, it's always a good idea to practice healthy habits around pets and other animals." So don't pet that strange dog (or tiger) no matter how much you might want to.
This article was originally published on