This Website Will Help You Get COVID-19 Vaccine When There Are Leftovers
This website that helps people across the country get vaccinated when there are leftover doses about to expire is a treasure.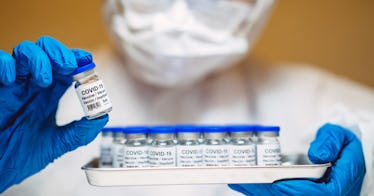 Are you anxiously waiting to get your COVID-19 vaccine? Or trying really hard to figure out how to get one ASAP, but struggling to make an appointment? You're not alone — and there's a website that will help you get on a standby list for leftover vaccines that will otherwise go to waste.
All things considered, the United States is actually doing pretty okay when it comes to vaccine rollout. As production of vaccines have ramped up, and now, with the soon passage of the President Joe Biden COVID-19 stimulus package that gives billions to states to create vaccine sites, actually create more vaccines, and hire vaccine workers, there's reason to hope that things will only start to move faster.
Still, even if you know that your turn to get the vaccine is just around the corner, or you're eligible and struggling to make an appointment, you may be anxious to get one. Here's what to know about HiDrB.com, a national website tool that is helping people make sure vaccines aren't wasted by letting them sign up to join a standby list for leftover vaccines.
This Vaccine Website Will Help You Access Leftover Vaccines That Need to Be Used
HiDrB.com is a national tool where people across the country can get on a standby list for leftover COVID-19 vaccines. People can sign up with their name, phone number, zip code, and identifying health information to put themselves on a waitlist for COVID-19 vaccines that become available when people don't show for their appointment or there are leftovers.
The website works with vaccine providers to notify people on the list when there are leftover — and only — leftover vaccines that need to be used within a very quick amount of time because people, say, missed an appointment.
How Does The Website Work?
After you sign up, if extra vaccine doses become available to you, you have to respond within a very short period of getting the text and make your way to the vaccine site ASAP to get the leftover vaccines, or the service will move down the list and ask the person behind you if they want to get vaccinated.
Obviously, to sign up, you have to include your name, identifying information so the website can contact you if vaccines free up in your area, and you have to answer questions about your health conditions, as well as enter your zip code, and you have to be at least 18.
Lest you are worried you'll be taking a vaccine from someone who needs it more, the website prioritizes people by greatest health need and by local health rules — making sure that the neediest are notified first about leftover vaccine doses.
These are vaccines that would otherwise be thrown out, and getting vaccinated is a basic good, leading us all toward herd immunity and a semblance at a normal life around the corner, while also ensuring as few vaccines are wasted as possible. Better a vaccine in an arm than in the trash, basically.
Sign up on the website — even if nothing comes of it. It could help you get a vaccine faster than expected, or help you get an appointment if you're already eligible but struggling to find one.
This article was originally published on