This Viral Instagram Will Make You Want To Take Your Toddler Camping Immediately
Even if they won't remember it.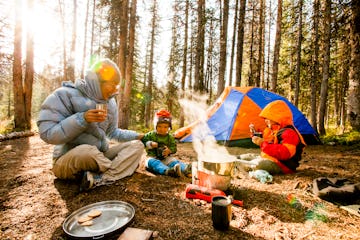 Cavan Images/Cavan/Getty Images
Parents never know what their young kids will remember. We try our best to give them great experiences that we hope they will remember down the line, but at the end of the day, who knows what they will and won't hold on to? Will they remember that trip to Disney? Or when they went camping? That's the basis of a viral Instagram from one dad who has now made more than 26 million people want to take their toddler on a camping trip, like, immediately.
The Walton Adventure (@thewaltonadventure) follows the fun adventures of the Walton family, which includes Mike, Carly, Whitney, Mara, Becca, and Mel. In one video recently shared with their 288,000 Instagram followers, Mike, the dad, took his toddler, Becca, on a camping trip, and his rundown of their time together went super viral with 26 million views — and counting.
The video was a clever way to remind parents that making memories with their kids in childhood can look like a lot of different things. In the clip, Mike shows each step that made up the camping adventure with his daughter. It was told in one long-winded story while showing small snippets of their trip together — from packing the backpack to skipping rocks to going on a hike and camping in a tent.
"Hey! I've heard that if you pack your backpack, pack her backpack ... drive for an hour ... start hiking ... hike about a mile ... find a good camping spot ... set up your tent ... blow up your mattress ... pull out your sleeping bag ... set up your chairs ... have some dinner together ... start a fire ... set up a few colorful lights ... lay down and look at the stars ... wake up ... eat oatmeal ... go for a little adventure ... play 'follow the leader' ... throw some rocks in the water ... go for a challenging hike ... stop for a breather ... give a piggyback and if you do these things ... you'll create some lasting memories!"
In the caption of the video, Mike acknowledges that at just two and a half years old, Becca's not likely to remember this trip, though she'll be able to reference it with these incredible videos and photos they took together. And while she might not recall the color of the lights they turned on at night or the heat the day they took their hike, she'll remember that having time with Dad is fun, and there will be a solid relationship behind it. And Dad will remember it, too.
"... Even though your kid might not remember the specific details of a family trip or outing with Dad, they will carry the emotional content of those adventures through life," Mike explains in the caption. "There are two types of memory: explicit and implicit. Explicit memory is when you consciously recall something, like the name of your first school or parents' birthday. Implicit memory is when you remember something without consciously thinking about it, like how to ride a bike." he adds.
For example, "Your 2-year-old remembering you threw rocks in the water on your camping trip? Explicit. The warm, fuzzy feelings when you talk about going camping again? Implicit."
Mike reminds us that we should keep those differences in mind when we're planning outings and let go of the "they'll never remember this" narrative.
"... take comfort in the fact that just because they won't have total recall of these early years, they will remember the important things that make them better people: parents take care of you, and the world is an exciting place to explore," Mike adds.
And at the end of the day, it's not just about making implicit memories for your baby. It's about you making explicit memories with your kids, too — memory-making that deepens your connection and bond with your kid and gives you plenty of stories to relay to them later, too.
In the comment section, people shared their own childhood memories that were made from spending time together. "My dad and I went on a camping trip when I was younger, just me and him," one user wrote. "We made a fire, ate while we looked at the stars, and listened to nature. I remember him being happy. I miss him."
"Not a dad yet but you just made me excited to be one," someone else shared.
"This is how core memories can make us or break us, I love it for Becca," another viewer wrote.
Their camping video made its way to Reddit, posted in the r/MadeMeSmile channel, where commenters gave the dad props and reminded us that "making core memories" with our kids doesn't have to be extravagant to be worth all the time and effort every time.