This Very Real Walrus Scavenger Hunt Will Turn Your Kid Into A Scientist
Kids can virtually help scientists find walruses in the Antarctic using satellite footage from the comfort of their own home.
by Ethan Freedman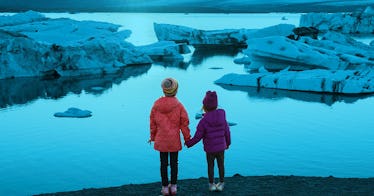 Depending on where you live, you probably don't have a chance to see a walrus in real life every day. But now, anyone — mostly your kids — can be an arctic scientist, helping scientists learn more about these tusked beauties.
Scientists at the World Wildlife Fund (WWF) and British Antarctic Survey (BAS) have launched a website asking people to help them find walruses in satellite images, NPR reports. By doing so, you can help the research team understand more about how the animals are responding to ecological issues like climate change.
To get started, visit the "Walrus from Space" website and sign up. They recommend that anyone 10 and older can participate, though anyone under age 13 needs to get their parent's permission.
The website will walk you through a quick how-to on how to spot walruses in these satellite photos and then get you started looking for tusks and whiskers. The research team is hoping to sign up 500,000 amateur biologists onto the platform, NPR reports.
According to the Walrus from Space website, these blubbery marine mammals are under siege from a few directions — from climate change melting Arctic ice to ocean acidification threatening the walrus's food sources. This program will help the scientists keep track of population trends for the next five years so they can monitor how the animals are faring in response to these threats.
Citizen science programs like these can be a great way to get kids thinking about science and nature. And for kids who are already big science whiz kids, it's a great way to cultivate interest and keep the passion going. And it's more than just a game: kids will have a real-world impact on the world with this program, helping researchers and conservationists keep better track of these majestic and imperiled creatures.
Walruses spend parts of their lives on ice floating in the sea. And the Arctic Ocean has ice in both summer and winter, with widespread ice coverage in the winter that shrinks as temperatures rise through the summer and grow back as they drop back down in the fall.
But as fossil fuel use and other greenhouse gas emissions have warmed the planet over the past few decades, the amount of summer sea ice has been declining. According to the National Oceanic and Atmospheric Association (NOAA), the Arctic summer could be mostly free of ice in the next few decades.
The Walrus from Space website notes that using satellite photos helps researchers get information about remote locations along the Arctic, from Russia to Canada. In addition, they say, satellites can take loads of pictures without interfering with the walruses' lives.