This Map Shows The Best National Parks For Wildlife
It's handy to know which national parks near you are the best or where else you can go for nature-focused outdoor fun.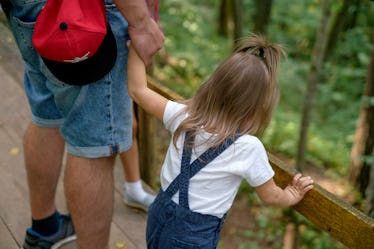 Shutterstock
Summer is just around the corner. If you haven't locked in your vacation plans, or you're desperately looking for day trips to keep the kids busy, a new map that outlines which national parks have the best biodiversity might be a great way to start your search.
Vacation rental company Casago wanted to find out the best state parks across the U.S. that are perfect for families who are obsessed with wildlife. To do this, they analyzed National Park Service Integrated Resource Management Applications (IRMA) data to sort and rank the parks with the most plants, animals, and birds per 100 square kilometers. They then put that data into an easy-to-read map showing the top National Parks across the country that have the most wildlife.
"U.S. national parks are each home to an average of 415 species of wildlife — often hundreds more — and over a thousand different plants," Casago writes. "Each has its unique characters, families, sights, and sounds. From tiny but tough pikas to trumpeter swans and Dutchman's breeches, these wild expanses are full of surprises."
Congaree in South Carolina takes top billing for the best park for wildlife spotting, with 362 animal species per 100 square kilometers. In second place is Cuyahoga Valley in Ohio with 317 animal species, followed by Carlsbad Caverns in New Mexico with 286 species. Neat!
The data analysts dug deeper, too, highlighting the best national parks for animal diversity. These rankings consider the different types and amounts of animals, with the top park being a very clear winner: Biscayne, Florida, with a mix of birds, reptiles, mammals, and amphibians totaling 1,002 animal species. In second is American Samoa, which has the same mix as Biscayne but fewer species, with 908 in total. Third is the Everglades in Florida, with many birds and a total of 729 species to spot overall.
Other stats pulled and compiled by Casago include the best National Parks for bird-watching, which goes to Carlsbad Caverns in New Mexico, and the best National Parks for plant-lovers, which goes to Cuyahoga Valley in Ohio.
But there are so many more parks on the list, from the Redwoods in California to Wind Cave in South Dakota to the Dry Tortugas in Florida. Just imagine a nice summer day spent at a national park — and how busy the whole family will be.
Top American National Parks for Wildlife Spotting:
Congaree in South Carolina
Cuyahoga Valley in Ohio
Carlsbad Caverns in New Mexico
Pinnacles in California
Acadia in Maine
Wind Cave in South Dakota
Dry Tortugas in Florida
Black Canyon of the Gunnison
Mammoth Cave in Kentucky
Bryce Canyon in Utah
To see all the stats and best national parks, check out Casago.