This Calculator Shows Your Risk of Dementia
It also offers tips tailored to you on how to lower your dementia risk.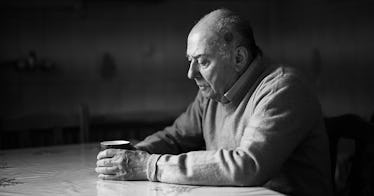 Would you live your life differently if you knew you would get dementia? What if you knew you were at high risk, but that a few lifestyle changes could make all the difference? Nearly a third of dementia cases are preventable through
exercise, a balanced diet, and other factors like drinking and smoking less. Now, a calculator you can use at home identifies the best changes you can make to reduce your risk of getting dementia — and exactly what that risk is."What sets this dementia risk calculator apart is that you don't need to visit a doctor for any tests," said Stacey Fisher, the lead author of the study and a postdoctoral fellow at the University of Toronto and Public Health Ontario. "People already have all the information they need to complete the calculator in the comfort of their home."The calculator, which was released yesterday and is based on a study of more than 75,000 Ontarians, is essentially a short quiz that identifies a person's risk of developing dementia within the next five years. You must be 55 years or older to take the quiz, so it may be best for plugging in your parents' information and identifying their risk, since you'll likely be the one to care for them if they do get the disease. You can find the calculator here.The calculator asks about three types of risk factors. First are questions about yourself, such as your age, marital status, education, and ethnicity. Second is your lifestyle, including whether you smoke and drink, what your diet is like, and how often you exercise. The third part is about your general health, such as your daily stress levels, your sense of belonging in your community, and what health conditions you have.No matter how low or how high your risk is, the calculator also offers ranked tips on how you can best reduce your dementia risk. Depending on your answers to the quiz, this may be taking care of your mental health, becoming more engaged in your local community, or working out more, among many other possibilities.Reducing that risk is incredibly important because, around the world, 50 million people have dementia. By 2050, 152 million people are expected to. And once you start losing your memory, language, and problem-solving abilities, there's no going back.If dementia isn't your only health concern as you get older, the website also includes calculators to predict your heart attack and stroke risk and your life expectancy.