This Biden Admin Student Loan Change Will Help 8 Million People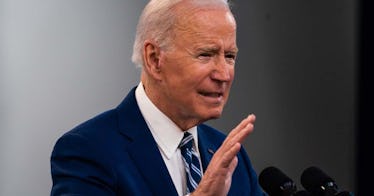 Getty
Last week, the Biden Administration
announced a new spate of programs designed to provide relief to millions of student loan borrowers. The programs include an extension to the pause on repayments and interest accrual that was originally slated to end in May. That student loan forbearance is now extended until August 31st — a move that was met with mixed reaction and, most notably, a call for more permanent student loan action from the president. But the other, less reported act Biden took was the automatic return to in-good-standing status for loans in default.While these programs only pertain to federally-held loans, like Direct Loans, 43.4 million U.S. borrowers stand to benefit. As many as 8 million borrowers in default will be able to start their payments with no penalties once the extension ends on August 31, 2022.
What Does It Mean That Defaulted Loans are Being Expunged?
When a student loan goes into default, the federal government is able to use a number of tools to ensure the loan is paid, including wage garnishment, tax return seizure, and reductions in social safety net program payments like Social Security. By returning loans to good standing and offering a "fresh start," the administration hopes to lessen the financial impact of federal loan repayment when the pause ends this summer."If loan payments were to resume on schedule in May, analysis of recent data from the Federal Reserve suggests that millions of student loan borrowers would face significant economic hardship, and delinquencies and defaults could threaten Americans' financial stability," said Biden in a statement
.
Who is Eligible for the Expungement of Defaults?
Unfortunately, these programs are only available to those with federally owned or federally backed student loans — Direct loans, any loan held by the Department of Education, and loans through private lenders that are federally backed. Those who received loans through other institutions do not qualify. The expungement alone stands to benefit up to 8 million delinquent and default borrowers. At the same time, the additional three-month extension to the repayment pause is intended to let borrowers work with the Department of Education to plan a repayment strategy. "The Department of Education is committed to ensuring that student loan borrowers have a smooth transition back to repayment," said U.S. Secretary of Education Miguel Cardona in a statement. "This additional extension will allow borrowers to gain more financial security as the economy continues to improve and as the nation continues to recover from the COVID-19 pandemic. It remains a top priority for the Biden-Harris Administration to support students, families, and borrowers – especially those disproportionately impacted by the pandemic. During the pause, we will continue our preparations to give borrowers a fresh start and to ensure that all borrowers have access to repayment plans that meet their financial situations and needs."
But What About Biden Cancelling Student Loan Debt?
Though Biden and Harris campaigned on a student debt cancellation platform, there have been few steps toward widespread debt cancellation since they took office. Earlier this year, the Administration forgave $415 million in debt to borrowers who had been defrauded by for-profit colleges, and they've taken similar targeted steps for other groups of borrowers like those who can't work to pay down their loans. Still, there is no plan yet for more widespread debt cancellation.In an April 6th press conference, White House Press Secretary Jen Psaki said the President has not "ruled out" student loan debt cancellation, adding, "And I would note that, again, he would encourage Congress to send him a bill canceling $10,000 in student debt, something that he talked about looking forward to signing on the campaign trail."