Haven't Gotten Your Third Stimulus Yet? Here's What to Know
Here's why you shouldn't freak out if you haven't received your $1,400 yet.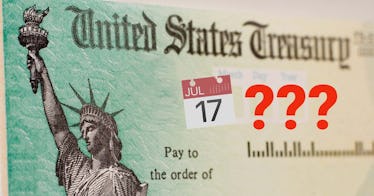 On Wednesday, April 21st, the IRS sent out another round of stimulus checks to 2 million people — marking 161 million recipients of stimulus checks, at a total of $379 billion, in six separate rounds of payments. But 161 million people is not everybody — and in fact, many people are still waiting for their stimulus checks to hit their bank accounts or arrive in the mail.
Here's what to know about continued payment rollouts, those plus-up payments if the IRS underpaid you for your stimulus check, how long the IRS has to send all of the stimulus checks, and what to do if you still haven't gotten your payment.
The Payments Are Still Rolling Out, So Don't Worry
If you haven't gotten your third stimulus check yet, don't worry. While the majority of third stimulus check payments have gone out to the people who are owed them, the IRS has until the very last day of 2021 — December 31 — to send out all of the third checks.
And they are still sending out checks regularly. The most recent payment batch went out on April 21, to over 2 million Americans, in a combined form of direct deposit and paper checks, alongside 700,000 plus-up payments, which are being sent out weekly, per the IRS and other publications.
That way, if the IRS doesn't have someone's full information on file, or if you made a mistake while filing your tax returns, they have the time to square away all of the relevant information and send it out to you at the correct amount you owe.
Those Plus-Up Payments Are Coming, Too
Plus-up payments — which we wrote about a while back — are payments given to people when the IRS sent them the wrong amount of money in their stimulus check. So, if you were owed more than you got, the IRS is trying to make good on that and is sending out separate checks to people who had already received their third stimulus check.
They are determining this by looking at your 2020 tax return and figuring out if they screwed up how much money they owe you, and are sending the difference in the form of either direct deposit or mailed in checks. (Expect to receive plus-up payments, if you qualify, in the form that you got your stimulus checks.)
The plus-up payments are still being sent out on a regular basis.
How Long Does The IRS Have to Pay You?
The IRS has until the last day of 2021, per CNET, to send out stimulus checks to all who are owed them. If you don't get your stimulus check you are owed by January of 2022 (the deadline to receive checks in the mail) you will have to wait until tax time in 2022 to file for the missing up-to-$1,400 cash benefit the government owes you in the Recovery Rebate Credit, the tool in which you claim your stimulus check at tax time and get it in the form of a fat tax return. Not ideal, but the money will come to you at some point, no matter what.
I Still Haven't Gotten Paid — What Do I Do?
You can always check on the status of your payment at the IRS.gov website, which will tell you when the check was sent out if it was.
If the check was sent out but you never received it, you can check out the payment trace tool, where you can try to find where, exactly, your check got lost in the process.
If you never get your money, you can use the Recovery Rebate tool on your 2022 tax return to get your cash.
If you are owed a plus-up payment because you got too small of a stimulus check, you can file your tax return ASAP, and the IRS will send you the money it owes you based on their calculations.
This article was originally published on