The Third Wave of COVID Has No Epicenter. That's Bad
A third surge in new COVID-19 cases is quite literally happening everywhere.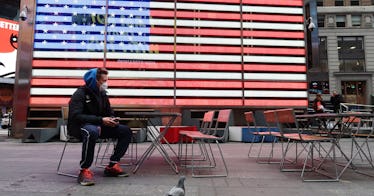 GETTY
October 22, eight months headlong into a deadly pandemic that has killed more than 200,000 Americans and has shown no signs of slowing down, was the third-highest single-day total of new COVID tests since the pandemic began. 73,000 people tested positive for COVID in a single day. The Atlantic has been tracking these cases and found that in the week preceding one in every 1,000 Americans had tested positive for the virus. Cases are exploding across the country — either due to economic reopenings, pandemic prevention fatigue, school reopenings, surges related to political rallies, and more.
But what's worse is that in the surges of cases before this moment, there was usually an epicenter, or a close-knit area, of one community. Right now, per the media company, a series of graphs reveals this third wave is "far more geographically dispersed than what the country saw in the spring or summer." From farm town to big city, every county is wracked with COVID-19, and more and more Americans are contracting the deadly virus.
Right now, things are looking incredibly dire in the COVID department. There are more than 60,000 new cases daily; these peaks are like the heat of the summer, except widespread everywhere, with no clear epicenter; the number of hospitalized Americans has increased by 40 percent. There has been no real aim to slow the spike from the White House, and Trump continues to hold rallies that defy public health orders and put thousands of people who attend, and those who don't but come in contact with those people, at risk. Rural America is getting slammed with COVID-19 from North Dakota, to Utah, to Wisconsin, by duplicate and triplicate. In Ward County, North Dakota, 1 in every 105 residents has COVID-19, per The Atlantic.
While at the beginning of the pandemic, states that were dominated by COVID-19 were the bigger cities, conservative counties are being hard-hit in regions that had so-far avoided being slammed by the virus, and swing-states like Michigan and Wisconsin are being crushed by new COVID cases. But places like New Jersey, which was hard-hit early on, is also having a COVID surge, where cases have quadrupled since mid-August. Massachusetts, Connecticut, and New York are experiencing increased rates in diagnoses, and Pennsylvania, as well. While there's much to say about how these surges might affect the election that is happening in just a few short days, what's true is this: there is no epicenter to the current COVID-19 outbreak, which makes it all the more difficult to maintain, and all the more dangerous.
This article was originally published on