The Surprising Reason John Lennon Stole a Guitar Solo From George Harrison On 'Get Back'
The Beatles had all kinds of drama toward the end, and one awkward moment highlights just how tense it got.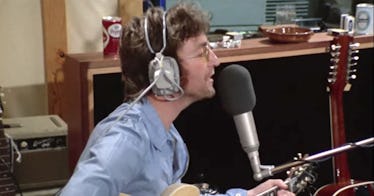 YouTube/JohnLennon
The Beatles are sometimes thought of as the greatest love story between four dudes; but close to the end, in 1969 things were not great. Generally speaking, we teach our children that all four Beatles sang, Ringo played drums, Paul played bass, George played lead guitar, and John played rhythm guitar. So, why did John Lennon take-over lead guitar duties — including a guitar solo — for the song "Get Back?"
On Wednesday, an article in The Cheatsheet revisited one of the stranger moments in Beatles history; that time John Lennon stole a guitar sole from George Harrison for the song "Get Back." The answer to the question of "why" is fairly simple. At the time the song was recorded, George Harrison wasn't around, and that's because the Beatles were fighting like crazy during the recording of the album that would eventually be known as Let It Be. So, when it came time for someone to play lead guitar on "Get Back"; John did it.
On some level, that's not a big deal, because only a hardcore Beatles nut could hear the difference on the actual record. But here's the wrinkle: The Beatles eventually played "Get Back" live on the rooftop of Apple Records as a promotional stunt for the documentary they were making about recording the album. And it's at this moment, you can see very clearly that John is playing lead guitar and George is pissed. If you watch the video at about 2:10, John is plucking away at that solo, and George looks like he's going flip out.
Funnily enough, in the long run, George and John ended up patching things up after the end of the Beatles, mostly over their mutual dislike of Paul McCartney. (Long story short: John, George, and Ringo got a new manager — Allen Klein — and Paul wanted the band to be managed by his in-laws; the Eastmans. The rest is legal history.) So, even though George hated John at this exact moment during the one and only live performance of "Get Back"; they jammed together just a few years later for John's solo song, "How Do You Sleep," which was on his album Imagine.
"How Do You Sleep" is famously a takedown of Paul, and yep, it looks like George played lead guitar on that one.
Supposedly, though, things during the Get Back/Let It Be sessions weren't as bad as people have claimed. And, soon, Peter Jackson will release a new version of the documentary which apparently will cast everything in a different light. Still, it will be hard to take that awkward moment out of the performance of "Get Back."