The Rock's Mind Has Been "Blown" By His Daughter Becoming a Pro Wrestler
Simone Johnson is about to join WWE royalty.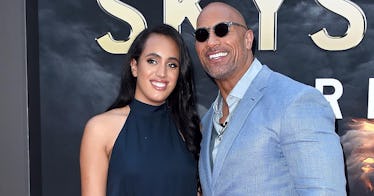 Getty
Simone Alexandra Johnson — the first daughter of Dwayne "The Rock" Johnson with his ex-wife and current manager Dany Garcia — is following in the footsteps of her literally and figuratively entertainment giant of her father. Simone has joined WWE to become a wrestling star, in the process becoming the first ever fourth-generation WWE Superstar in history.
Simone, who is 18 and has been training to sign on with WWE since she was 16, follows her great-grandfather, "High Chief" Peter Maivia, her grandfather Rocky Johnson, and her father, "The Rock" in a long line of WWE geniuses. But beyond direct lineage, the Anoa'i family, an American Samoan family, a family of professional wrestlers also counts 'The Rock' and his grandfather, Peter Maivia, as honorary members of. Anoa'i family members include Rosey, Rikishi, Yokozuna, Roman Reigns, The Usos, Afa and Sika Anoa'i, and the Wild Samoans, among others. Plus, her mother, Dany Garcia, is a body-builder, so Simone Johnson is likely set for greatness based on genetic talent alone.
Still, what 'The Rock' values most about his daughter is her work ethic. "You know, it blows my mind," he said to Jimmy Fallon on Friday. "First of all, what an honor that my daughter wants to follow in my footsteps but more importantly… actually wants to create and blazer her own path, which is just so important." He added that she's been working her ass off "quietly, under the radar" since she was 16 years old, facing challenges and working hard to prove her mettle beyond the value of her family name.
Simone Johnson has reported to the WWE Performance Center in Orlando, Florida, to begin her training. She's currently being trained by WWE head coaches Matt Bloom and Sarah Amato. Bloom called her "a sponge," saying that "she knows what it takes to succeed and all of the hard work and sacrifice that goes into it. I wouldn't have expected anything less."
This article was originally published on