The Rock Reveals What's In That Infamous Fanny Pack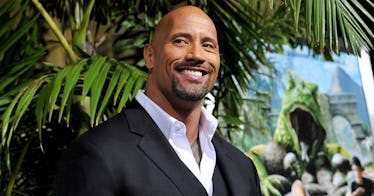 Kevin Winter/Getty Images
Dwayne "The Rock" Johnson may be one of the coolest stars in Hollywood but that doesn't mean he's always been so effortlessly cool. Or maybe it does? Because even when an image of a teenage-aged Rock was unearthed, a photo that would have embarrassed any regular person, he embraced it. Leaned into it even. And now The Rock is answering a question we've all had since that '90s meme of his of him in a black turtleneck, with a silver chain, blue jeans, and a fanny pack, went viral: What is in that fanny pack?
Dwayne was recently asked about his fanny pack from the iconic '90s photo on the E! News Daily Pop show. He was chatting with the host about how he was so confident when he was younger and considered himself a "ladies' man."
That, and "a bad boy getting in trouble all the time," he added. "But yes, I always, from a very young age, loved the girls, loved women and [was] always interested."
And since he was such a "ladies' man," that fanny pack he wore around his waist, paired with a black turtleneck, tight blue jeans, and some chains, was sort of like his wingman. It carried all the things he might have needed to hang with the ladies.
Dwayne revealed that one thing he for sure kept in his fanny pack was phone numbers, which is so very '90s. After sharing that small detail, The Rock didn't want to go into too many other details. Dwayne added that there was other "stuff like that" in his fanny pack. But cautioned that he couldn't share more because in his fanny pack was also "a lot of inappropriate things I can't mention right now."
So, he sort of told us what was in that fanny pack without actually telling us what he carried in there. We're going to guess the items in his fanny pack were consistent with ladies' phone numbers. And now our imagination can continue running wild.