The Next Pandemic Product Shortage? Blood. And It's Bad
If you can give blood, you should, as blood centers across the country are down to less than a day's supply of the life-saving substance.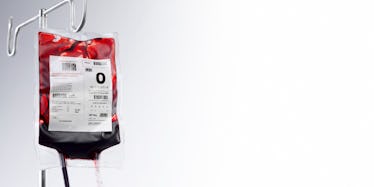 GETTY
According to the American Association of Blood Banks, the United States is in an extremely low supply of blood.
In fact, per The Week, the blood supply is now in the "red" level, which means that the majority of blood banks nationwide only have, or have less than, a single day's supply of the crucial substance.
For perspective, the American Red Cross reportedly keeps up to five days of blood at a time. A blood center is considered to have a "good" supply of the substance if they have about three days of blood on hand at any given time. To have less than a day of blood is, then, a real problem.
Across the country, for weeks, regional hospitals from Cape Cod to Arizona are begging people to donate blood — in Phoenix, officials begged for "hundreds" of donors to come through over the July 4th weekend, an Oklahoma institute said their blood supply had hit "emergency" levels, a University of Iowa Hospital implored people of all blood types to help restock the supply.
These stories are echoed across the country — and though they've been weeks in the making, with the American Red Cross (which, per Live Science, supplies 40% of donated blood to the United States) saying there was a shortage problem three weeks ago, the problem isn't getting better.
But why is the blood supply so low? As with nearly all things these days, the pandemic has played a massive factor in the shortage of blood, both in donations and in the crunch of blood supply as hospitals begin to resume elective surgeries or do surgeries they had postponed during the pandemic.
No small part of the problem has been the fact that the pandemic has made it much harder for massive blood donation drives to operate. As offices, schools, churches, and other large gathering places closed nationwide, the blood drives that often populated them struggled, too.
Large companies, churches, movie theater drives, and festivals that had blood donation trucks at them all had to end, per a Southeastern blood center's Senior VP of Corporate Communications and PR, Susan Forbes. Fewer volunteers to help work at blood donation centers have made the events harder to staff. In a similar vein (no pun intended), schools accounted for nearly a quarter of blood donations before the shutdown.
But it's not just that the collection of blood is down — the AABB's chief medical officer, Dr. Claudia Cohn, told USA Today in late June that "this is the worst shortage I've experienced since I've been in this line of work" — it's also that there's an increase of demand in blood that is needed.
Fewer blood drives, plus scheduled and elective surgeries on the rise, and the increase of summer car accidents means that blood is sorely needed but hard to find.
Nationwide, there's been a 10% increase in demand for blood. And while calling the surgeries "elective" may put some people's minds at ease, CBS News spoke to an 11-year-old kid with Leukemia who had to delay a blood transfusion for a few hours that is a regular part of his blood cancer treatment. And when people need blood due to trauma — be it from a car accident, a gunshot wound, or what have you — blood needs to be on hand.
If you can help, you should. The American Red Cross and regional blood donation centers across the country are in dire need of blood, you can call them and schedule a donor appointment as soon as possible.
This article was originally published on