The New CDC Guidelines Say Schools Should Open — If Community Transmission is Low
The guidelines feature a bunch of hard recommendations as to how to reopen safely.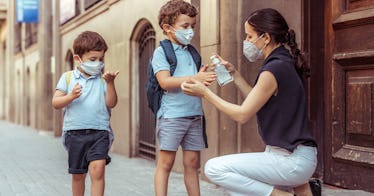 The CDC published new guidance documents for school administrators on Thursday, emphasizing the need to open schools for children's social, educational and emotional development, but with many caveats. Do not confuse these with school documents published by the CDC in May. While the new document heavily focused on opening schools and giving administrators and education officials guidelines on how to do so as safely as possible, the document was also riddled with what seemed like admissions that, at least for much of the United States right now, opening schools might not be the safest decision.
The document states that kids "appear to be at lower risk for contracting COVID-19 compared to adults… as of July 17, 2020, the United States reported that children and adolescents under 18 years old account for under 7 percent of COVID-19 cases and less than 0.1 percent of COVID-19-related deaths." However, the document makes the important stipulation that in international studies, the studies have concluded :how readily COVID-19 spreads in schools also reveal low rates of transmission when community transmission is low." One study published in July has suggested, however, that children over 10 spread COVID-19 just as much as adults do, infecting about 18.6 percent of their contacts, the highest of any age bracket.
Still, the CDC suggests that, based on data from Europe, low community transmission will largely translate to an environment where teachers, parents and kids can expect to have low transmission in schools. While the CDC does state that if there is substantial and uncontrolled transmission in communities that schools are in, those schools should work with health officials in their area to see whether they should open their schools. However, the CDC doesn't provide a rate of community transmission that should concern health officials or school officials.
"Communities can support schools staying open by implementing strategies that decrease a community's level of transmission," the CDC recommends. "However, if community transmission levels cannot be decreased, school closure is an important consideration. Plans for virtual learning should be in place in the event of a school closure." So, in other words, it sounds a lot like the CDC is recommending some of the many measures that have been recommended by health officials, and thus ignored by many Americans like wearing masks, limiting non-essential trips out of the house, staying home whenever possible, and social distancing.
Much of the document is dedicated to hard recommendations, like mandating face masks for all students, setting up sanitization stations across the facilities, having classes be "pods" that only interact with one another and avoid contact with other students, get more buses so that kids can actually socially distance on buses, and suggests that parents use the CDC checklist to determine whether or not they are in a good position to allow their children go back to school, should their schools reopened.