LeBron and NBA Twitter Unite and Convince ESPN to Air '90s Bulls Doc Early
Basketball fans desperate for something to watch are getting a ten-part doc on the '90s Bulls dynasty months early. Thank Goodness.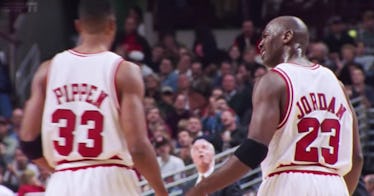 ESPN / youtube
Pressure from desperate sports fans has persuaded ESPN to release The Last Dance, a sprawling documentary about the end of the '90s Chicago Bulls dynasty, months earlier than originally scheduled.
The ten-part (!) limited series was slated for a June release, likely timed to hit the airwaves just after the NBA Finals, when interest in basketball is peaking just as new basketball games suddenly abate. But thanks to the coronavirus, the NBA season is suspended and the NCAA tournament canceled, leaving millions of basketball fans to sit at home watching classic games and crying. There arguably has never been a better time for something like The Last Dance to be released.
That's the point many of those same fans made to ESPN on Twitter as they pleaded with the network to air the highly-anticipated event early. They gained a powerful ally — LeBron James — when he made these comments during a recent podcast interview.
"If they release that thing right now? The views on it?" James said, implying that there would be a bonanza. "Listen, if I'm Michael Jordan, I'm going in there and I'm making a conference call and I'm like, 'OK, what's the reason that we're going to hold on to it until June now? Compared to now when everybody is at home?' Because it's done. It's done."
Thankfully for James and his fellow fans, the pressure worked.
In a statement, ESPN said that it had "heard the calls from fans asking us to move up the release date for this series, and we're happy to announce that we've been able to accelerate the production schedule to do just that." SportsCenter also released a tongue-in-cheek video about the saga featuring footage of the James interview and an assortment of the tweets it received from impatient fans.
The series is built around behind-the-scenes footage shot by NBA Entertainment during the 1997-1998 season, one that ended with Michael Jordan and his Chicago Bulls capturing their sixth and final title of the decade. It also has interviews with Jordan, Scottie Pippen, Dennis Rodman, Steve Kerr, and coach Phil Jackson along with a murderer's row of figures from both inside and outside of the sports world, among them Barack Obama, Justin Timberlake, Charles Barkley, and the late Kobe Bryant.
If that's not enough to get you pumped, this combination trailer-sneak peek should definitely do the trick.
The Last Dance premieres on ESPN on Sunday, April 19, at 9 p.m. ET. Two hour-long episodes will air that night and the four following Sundays. The previous week's episodes will re-air before each pair of new episodes.
Immediately after individual episodes premiere on ESPN they will be posted to ESPN's digital platforms. International audiences can watch installments of The Last Dance on Netflix starting at 3:01 a.m. ET the Monday morning after they initially air.
This article was originally published on