The Free Government COVID Tests Website is Live. Here's How to Order
The White House website to order four free COVID-19 tests per household just went live a day early. Here's what to know.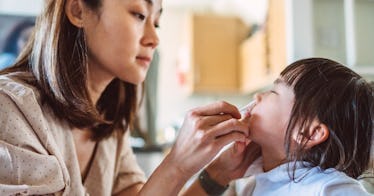 Images By Tang Ming Tung / Getty Images
The federal government just launched its free website for Americans to order free COVID-19 tests (exactly four per household) making good on a Biden Administration promise that at-home testing would be available to every American.
Amid spiking Covid numbers due to the highly transmissible Omicron variant, at-home tests have been difficult to source—and expensive when found, with some retailers charging up to $50 per test. (Testing kits often come with two tests.) As the CDC recommends testing before gathering at this point in the pandemic, asking regular Americans to comply with a CDC guideline was also asking them to wallop their own wallets.
That's why, to help meet higher demand and lower the impact on people's already hurting bank accounts, the administration pledged that free at-home testing would be available at no cost to Americans—to the tune of around $4 billion for the government, according to one senior administration official.
The new website allows each household in the U.S. to order four at-home Covid tests at no cost. These tests are available to anyone regardless of insurance status.
The government already has at least 420 million tests on order and is under contract for the remaining 80 million tests. Increased demand has meant that test manufacturers like Abbot Labs are working hard to increase their output. "We're seeing unprecedented demand," Abbott's director of public affairs for rapid diagnostics John Koval told NBC News., "And we're sending them out as fast as we can make them. Despite public health guidance over the summer that caused the market for rapid testing to plummet, we never stopped making tests."
How To Order Your Four Free COVID-19 Tests:
Starting right now, January 18th, visit COVIDtests.gov to order your four free tests per household.
Go to COVIDtests.gov to order our tests.
Follow the "Order Free At-Home Tests" link.
Enter your name and address, as well as your email, on the website, and confirm your order, 100% for free.
Check your email for confirmation of your order.
Tests will ship between 7 and 12 days from when the order was placed, or by "late January" as the website states.
The Biden Administration is Taking Further Steps
According to a White House statement, the administration is taking steps to ensure high-risk communities aren't overlooked when free at-home testing becomes available, including "prioritizing processing orders to households experiencing the highest social vulnerability and in communities that have experienced a disproportionate share of COVID-19 cases and deaths, particularly during this Omicron surge; launching a free call line, so that Americans who have difficulty accessing the internet or need additional support can phone-in orders for their tests; and, working with national and local organizations with deep experience serving communities of color, people living with disabilities, and other high-risk communities to serve as navigators, raise awareness about the program, and help people submit requests," the White House said in a statement.
They will also launch tens of thousands of more COVID-19 testing sites nationwide.
The launch of the free at-home testing program comes at a vital time. Covid numbers have spiked nationwide as children return to public schools after the winter break, and many people have let their guards down when it comes to masking and social distancing, wearied by two years of Covid protocols and changing quarantine and isolation guidance from the CDC. And while having access to free at-home tests is undoubtedly a boon for many, it doesn't negate the genuine need for vaccination and vaccine boosters. Experts agree that vaccinated individuals manifest less severe symptoms than those who have forgone vaccination, and with hospitals reaching capacity once again, vaccination has become more critical than ever.