The DOE Released Its School Reopening Roadmap. Here's What to Know
The DoE school reopening roadmap urges schools to follow CDC recommendations. In many places, they legally can't.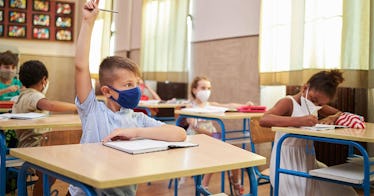 On Monday, August 2nd, the Department of Education published a "Return to School Roadmap," a guiding document for teachers, students, and school administrators on how to reopen their doors safely with the social-emotional and educational needs of children in mind.
The roadmap includes three major priorities for schools across the country: one, prioritizing the health and safety of people in the school buildings; two, supporting students' social, emotional, and mental health after more than a year of COVID-19 induced isolation and remote schooling; and three, accelerating academic achievement after a year of absolutely wildly topsy turvy education.
The document directs schools to use funds given to them from the American Rescue Plan to address the three priorities laid out in the document. It also provides detailed guidance on how to do so.
The roadmap was released alongside $122 billion in funding for K-12 schools, $3 billion in IDEA funds for disabled kids (a group disproportionately impacted by online learning), $800 million for students experiencing homelessness, and $40 billion for higher learning institutions.
But the most pressing and most controversial aspect of the roadmap is the direction that schools should follow CDC COVID-19 mitigation strategies, including the universal indoor masking.
The Roadmap Recommends Universal Indoor Masking When Schools Reopen
The Delta variant of COVID-19 was recently shown to spread easily between the vaccinated and unvaccinated. So it makes sense that the roadmap encourages schools to follow CDC guidelines for universal indoor masking regardless of vaccination status.
But the masking guidance is a problem despite the fact that pediatricians groups, doctors, and public health experts have all urged parents to put masks on their kids, vaccinated or not, when they return to school come September.
Why? Because governors and legislators in many states across the country have made it impossible for school districts to create their own masking policy.
But Mask Recommendations Are Already Impossible to Enforce in Many States
Per CNN, at least nine states have passed legislation that bans school districts from requiring masks in schools. Those states are Arizona, Arkansas, Georgia, Iowa, Oklahoma, South Carolina, Texas, Utah, and Vermont.
For example, one school district in South Carolina is "strongly encouraging masking" because that's really all it can do. Legally, those local officials cannot require masks due to the superseding law from the state. Doing so anyways would invite immediate legal challenges and potentially imperil state funding to the district.
On the other end of the spectrum, as of early July, 10 states have laws requiring students to wear masks. Per Forbes, they are California, Washington, New Mexico, Illinois, New York, Connecticut, Delaware, Virginia, Hawaii, and North Carolina.
Two states require masks for unvaccinated students, a group that includes all students under 12 years old and the more than 70 percent of students between the ages of 12 and 18 who have not been fully vaccinated against COVID-19.
Kids, Teachers, and the Larger Community Could be at Risk
The fact that school districts in so many states can't meaningfully enforce the CDC masking guidelines is a problem, especially given that so many children in schools are unvaccinated. There's no reason to think that the outbreaks over the summer at indoor kids camps that didn't require masks won't be repeated when schools reopen in the fall. In the meantime, everyone in the community will be put at risk in the states whose governments don't allow districts to act in the best interest of students and staff.
In an interview with NPR, Education Secretary Miguel Cardona said "We know that mask-wearing and mitigation strategies allow [schools] to reopen safely." He added that the states where lawmakers are most resistant to his department's urging of mask mandates and other mitigation strategies are "where we're seeing the most spread of COVID-19."
Unfortunately, it's unclear how much Cardona and the rest of the federal government can do to compel states and districts to require masks at school. Any effort to do so would certainly be met with legal challenges that would likely go unresolved before school begins.
There's little reason to believe that COVID-19 won't continue to spread in schools that aren't allowed to mandate mitigation strategies. And little reason to hope that they're allowed to do so before students, teachers, staff, and community members are put at further risk.