Boys DO Cry! The Cure Set to Release a New Album
There's no release date yet, but it's promised sometime this year.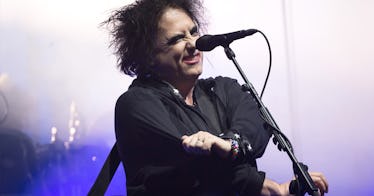 GETTY
Bestill our '80s hearts – we have some good news is coming. The Cure's Robert Smith has confirmed that a new album will "definitely" arrive in 2020. The band's last release came in 2008 titled 4:13 Dream, and we've been patient long enough for something else to add to our rotating playlist.
In an interview with NME, Smith confirms that a new album will finally be available later this year. "The first one will definitely be out soon," he says, referencing a previous interview where he mentioned the band was working on two albums, and he was working on a solo one. "We're wrapping it up now, and it's going to be mixed. But until it's completed, no one will believe me," he adds. "I look forward to it coming out more than anyone else, trust me!"
As the leading figures of goth rock for the past 30 plus years, it's comforting that we can still count on The Cure to bring us nostalgia vibes from our earlier years with new music. There aren't a whole lot of '80s bands who are still together left and aren't tarnished and messy like Morrissey.
When Smith was asked when fans could expect the new album to be available, he was still vague and didn't want to commit to a date. "I'm too old to commit to idiot things like that, wait and see," he answered back.
The Cure celebrated the 40th anniversary of their debut album, Three Imaginary Boys last year and was recently named Best Festival Headliner as supported by CanO.
"Thank you very much. I dressed up for this; it means a lot getting an award like this, winning a live award," Smith said while accepting the award. "We had the most fun ever last year and I'm very happy to be the singer in The Cure right now."
We may have to wait a little while longer, but we can wait for good music.