What Do The CDC's Travel Guidelines for Vaccinated People Mean?
Here's what the new CDC guidelines mean.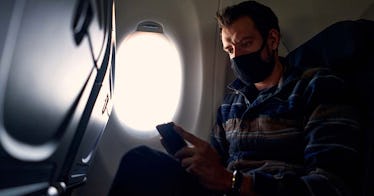 The CDC issued its first guidelines for post-vaccination life early in March. The recommendations allowed those who have received the COVID-19 vaccine to expand their social bubbles, but urged them to continue wearing masks and social distancing in public. Importantly, they also recommended against long-distance travel. But updated guidelines allow vaccinated people to hop on a plane, train, or automobile to travel both inside and outside of the US.
"Fully vaccinated travelers are less likely to get and spread COVID-19," according to the CDC. You count as fully vaccinated two weeks after your second dose of the Moderna or Pfizer vaccines or two weeks after your first and only dose of the Johnson & Johnson vaccine. Vaccinated travelers still must take precautions during their adventures, by wearing a mask, social distancing, and washing their hands frequently.
Here's what to know about the travel recommendations, and CDC Director Rochelle Walensky's confusing statement right after the guidelines were published.
Here's What the Travel Recommendations Say
As stated above, you can travel inside and outside of the U.S. if you've been fully vaccinated, says the CDC.
Vaccinated travelers do not need to get tested for COVID-19 before embarking on their international trip unless their destination requires it. Upon their return to the US, they do not need to self-quarantine. What travelers do need to do is get tested within 3-5 days after their travel home because "even fully vaccinated travelers are at increased risk for getting and possibly spreading new COVID-19 variants," according to the CDC.
Good luck finding a vacation destination though. Many countries are still barring US residents from entering, although some are starting to make exceptions for vaccinated people.
Just Because You Can, Doesn't Mean You Should
Despite the new guidelines, CDC Director Rochelle Walensky said, "CDC is not recommending travel at this time due to the rising number of cases." Make it less clear what vaccinated people should do, why don't you? She does make a good point though — just because you can, doesn't mean you should.
After all, over the last week, the US averaged nearly 64,000 cases per day, which is up 11 percent from the previous week. So while you can travel, now is not the time for a world tour. Maybe wait until cases have gone down a bit and more people are getting vaccinated.
Travel guidelines for unvaccinated people — namely that they shouldn't leave the country if at all possible — have not changed. If they are going to travel, unvaccinated people should get tested 1-3 days before they leave and must have a negative test result within 3 days of their return flight to the US. When they get back, they must self-quarantine for 7 days, get tested within 3-5 days after their arrival, and avoid those at high risk for severe COVID-19 for two weeks.
TL;DR:
The bottom line is that vaccinated people can travel, but be safe about it. And, of course, this advice doesn't help parents of young kids. Children can't get vaccinated yet, so family vacations are still up in the air. Kids are less at risk of COVID-19 than adults, but they can still get and spread the disease. Per the guidelines, they shouldn't be doing any unnecessary traveling.
But if you can find a vaccinated babysitter to watch the kids for a week? That makes the choice a whole lot easier.