The Best Dad Instagram Memes and Pictures of the Week
Here are the best dad-approved Instagrams from this week.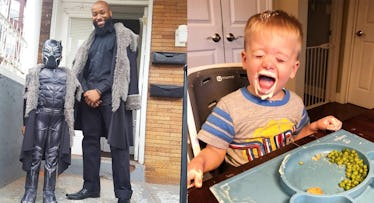 <a href="https://www.instagram.com/theblackmancan/" target="_blank">TheBlackManCan</a> & <a href="https://www.instagram.com/familyfooddude/" target="_blank">familyfooddude</a>
Becoming a father means joining a special club of a bunch of people who laugh at the same ridiculous things that you do. Before the internet and the dawn of Instagram memes, that world was mostly relegated to the dads who lived around you. Now, however, dads across the world can connect and laugh and feel moved by the same images that convey the same feeling and it helps them feel less alone in their pursuit.
Here are eight of the best #dadstagram memes from this week:
LIKE FATHER LIKE SON
BE OPEN TO NEW EXPERIENCES
THERE'S A MOUTH FOR THAT
THE TIME BEFORE KIDS
I'VE ALWAYS WANTED TO TAKE UP TUTORING
DO THEY MAKE A CHICKEN NUGGET FLAVOR FOR THAT?
WHEN I WAS A KID…
JUST CATCHING UP ON THE BABYNOMICS SECTION
This article was originally published on