The Average Cost Of Thanksgiving Dinner Is At Lowest Since 2010
And it's not because Thanksgiving dinners will be smaller this year.
by Isabella Bridie DeLeo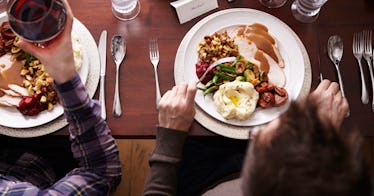 The Thanksgivings of yore (i.e. pre-COVID) were made up of large family gatherings, turkey and stuffing and pumpkin pie aplenty, passionate political debates, and football on the TV. But this year, the pandemic has thrown a wrench into what is normal, and for a lot of families, Thanksgiving just won't be the same this year. Even as more folks do remote or small gatherings, families can still indulge in a hearty Thanksgiving feast with all the stuffings and trimmings — and the glimmer of good news is that the cost of a Thanksgiving dinner is expected to be cheaper this year than it has been in a long time.
The American Farm Bureau Federation's annual survey found that the average cost of a Turkey Day dinner for 10 is the lowest it's been in 10 years. For 10 people, a Thanksgiving meal will cost around $46.90, a $2 decrease from last year's average, which was $48.91. That's a record low.
According to Dr. John Newton, the Chief Economist for the Farm Bureau, "The average cost of this year's Thanksgiving dinner is the lowest since 2010." Some traditional foods, including turkey, will be sold at a lower price this year to encourage shoppers to purchase more. That could mean more tasty treats to gobble up. Newton explains, "Pricing whole turkeys as 'loss leaders' to entice shoppers and move product is a strategy we're seeing retailers use that's increasingly common the closer we get to the holiday." Several hot-to-trot items might do less damage to your wallet in 2020.
The average turkey, for example, will cost $19.39 this year, down from $20.80 last year, whipping cream is cheaper by an average of 34 cents and russet potatoes are down by an average of 19 cents. A few notable items have become slightly more expensive this year, including rolls, which now cost $2.66 on average, up from last year's $2.50.
The good news is that Thanksgiving staple foods are generally well-stocked at the moment, but this could potentially change if families panic-buy due to COVID-19. So, whatever your plans are for the holiday, you can probably feel good knowing that Thanksgiving will go a little easier on the wallets this year.