The Next Netflix Tearjerker Will Be Based On a Very Famous Viral Story
The yearly tradition is hitting the big screen.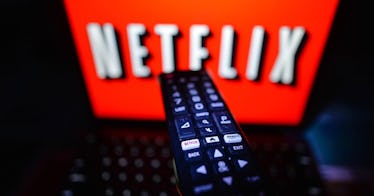 GETTY
There are some viral stories that stick with us long after the hype wears off on social media. But that's not what happened to the people behind a viral photo from six years ago. An Arizona grandma went mega viral after accidentally inviting a stranger to Thanksgiving dinner. Their text exchange was shared on Twitter, and now that moment is being made into the next Netflix tearjerker.
The Thanksgiving Text, being developed by Netflix, will share the true story of that wrong text message Wanda Dench thought she was sending to her grandson. Instead, she had the wrong number and ended up texting Jamal Hinton, a senior at high school at the time.
"You not my grandma," Jamal replied, adding "Can I still get a plate tho?"
Wanda texted back, "Of course you can. That's what grandma's do … Feed everyone."
However, unlike other viral moments, this had become a yearly thing and people looked forward to seeing their reunion. Each year for Thanksgiving, Wanda and Jamal would get together and enjoy their Thanksgiving feast. It was routine to give an update on their friendship.
Wendy "has since extended the invitation to Hinton's girlfriend and his family to partake in the yearly festivities," Variety reports. "After the pandemic hit, their reunion became poignant because Dench's husband of 42 years, Lonnie Dench, who also participated in the Thanksgiving tradition, died in April 2020 from COVID-19 complications."
The story has now caught the attention and Wendy and Jamal are excited about the upcoming Netflix film.
"We are excited to share our story with the world. We hope it inspires more people to reach out and make connections that they wouldn't ordinarily make," the two said in a joint statement. "We are so blessed to find a genuine friendship brought together by God from a mistaken text message."
So far there haven't been any details released about who will be directing or starring in the film, but we're guessing viewers will need some tissues on hand, there's probably going to be a lot of tears.
This article was originally published on