Trans Kids' Parents Are Now Being Investigated in Texas, Lawsuit States
A lawsuit has been launched to halt child abuse investigations into parents who seek gender-affirming care for their teens.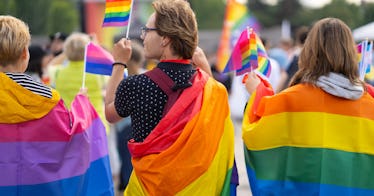 Vladimir Vladimirov / Getty Images
Last week, Texas governor, Republican Greg Abbott, called for professionals "who have direct contact with children" or are mandated reporters to report child abuse on parents of transgender youth who seek out and receive gender-affirming medical treatment for their kids. His call, though not exactly a legally binding order, has led to investigations into transgender youth's medical care. Now the state is being sued to put a legal end to the investigations. Here's what you need to know.
What is happening in Texas?
Abbott sent a letter to the Texas Health and Human Services, the Department of Family and Protective Services (DFPS), and the Texas medical board in late February of 2022 in which he asserted that "to subject Texas children to a wide variety of elective procedures for gender transitioning, including reassignment surgeries that can cause sterilization, mastectomies, removals of otherwise healthy body parts, and administration of puberty-blocking drugs or supraphysiologic doses of testosterone or estrogen" is child abuse. Gender-affirming surgeries are not available to minors, with limited exceptions.
Abbott has also called on parents of children who receive such care to be investigated for child abuse. This was prompted by a legal opinion issued by Ken Paxton, Texas Attorney General, saying gender-affirming procedures and treatment for transgender children are a form of child abuse.
The letter flies against the consensus of doctors and experts everywhere who state that the research shows that gender-affirming care for minors can be medically necessary and even life-saving.
While many authorities said they would not enforce the directive, the DFPS said they would. As a result, investigations of trans children and their parents have already begun in Texas. An employee of DFPS, who has a transgender teen, stated she's been placed on work leave and is being investigated for child abuse for seeking care for her child.
The DFPS "remains on leave pending the results of the DFPS investigation, court documents say," CNN reports. "Should the investigation find the parents committed abuse, they would be put on the Child Abuse Registry," which could lead to jail time. They could also have their child removed from their care.
A lawsuit has been launched against the state of Texas
In response to the investigation launched on the parents, a lawsuit has been filed to block the DFPS from investigating parents. The lawsuit was launched by the American Civil Liberties Union, the ACLU of Texas, and LGBTQ+ civil rights organization Lambda Legal, aiming to stop the practice, CNN states. The organizations have asked the Texas courts to block the DFPS from investigating parents who work with medical professionals to support their kids with evidence-backed procedures and treatment for gender-affirming care.
"No family should have to fear being torn apart because they are supporting their trans child," said Adri Pérez, policy and advocacy strategist at the ACLU of Texas, in a press release. "A week before an election, Gov. Abbott and Attorney General Ken Paxton issued a partisan political attack that isn't rooted in the needs of families, the evidence from doctors, and the expertise from child welfare professionals. Families with trans kids in Texas have been under attack for too long. Gender-affirming health care saved my life, and other trans Texans should be able to access medically necessary lifesaving care."
What could happen if the lawsuit is successful – or not?
The ACLU and Lambda Legal Senior Counsel Paul Castillo have asked the courts for a "temporary restraining order to prevent Texas from investigating families for supporting their trans kids and to prohibit requiring professionals who work with youth to report these families." Should they be successful, the investigations should stop – but Texas remains firmly against parents seeking medically backed care for their trans youth. The judge presiding over the case, Judge Amy Clark Meachum, said she would rule on whether to pause the order by March 2nd, 2022.
Texas isn't the only state aiming to limit gender-affirming care for trans youth. For example, Arkansas and Alabama have proposed criminal penalties for professionals or parents who seek care for their teens. However, the Texas lawmakers' attacks are particularly heinous. "Texas is the only state saying providing this lifesaving care could lead to a child being removed from their family and placed in the foster care system," the ACLU warns.