Texas Law Gives Parents Permission to Redshirt Through Middle School
The new rule gives parents the ability to request their kids repeat grades into middle school because of COVID-19.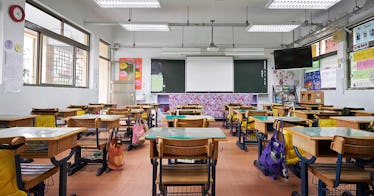 The state of Texas has a new law that allows public school parents to "COVID redshirt" their children much more easily — and it doesn't just apply to kindergarten students.
Before the school year started, Texas passed a law that allows parents of elementary and middle school-aged kids to ask school officials to allow their child to repeat a grade; parents of high school students could request that their kids repeat specific courses. If the school administration disagreed on the need for redshirting, it could convene a committee and hold a hearing before ultimately deciding the matter. The same law also allows parents of kindergarten and pre-k students to enroll their kids a year late if they didn't enroll last year due to COVID-19.The new law, covered by the Dallas Morning News, is an unsurprising expansion of parent choice. News reports about how kindergarten will be a mess this fall because of pandemic redshirting abounded in recent months. That's because, for rather understandable reasons, kindergarten enrollment plummeted during COVID-19. Parents who would have enrolled their kids in kindergarten absent a pandemic did not, choosing instead to wait until their kids could be in real classrooms. This trend was confirmed by large-scale reporting projects (like this amazing data-driven story from The New York Times) and local stories of districts and states preparing for an influx of kindergarteners after seeing enrollment numbers drop locally and nationwide.Many parents planned to enroll their children in kindergarten for the 2021-2022 school year for the first time. Others want their kids to repeat kindergarten in-person after spending their first year of school online.For some kids, the Texas rule may be ultra-helpful, especially for very young children for whom the school is just as much about learning how to sit in a classroom and engage with others as it is mastering their ABCs and 123s. And the Dallas Morning News reports that there were about 75,000 fewer kindergarten and Pre-K students enrolled in Texas schools in January 2021 vs. January 2019 — suggesting that the new law will benefit younger kids more than bigger kids.But for education experts who have been sounding the alarm on a so-called education bubble for the past year or so, it's a sign that kindergarten in particular will be a total mess as schools begin.In other words, the law could lead to an even more chaotic school year for educators, and while parents do have the benefit of having more power in making decisions, it's hard to say what type of parents actually went forth with the program in Texas and in general. Historically, redshirting has been the provenance of wealthier white parents who can afford to keep their kids out of public school for another year — and being held back in school can actually have harmful effects on kids' self-esteem and their likelihood to graduate. But repeating a grade after going through COVID-19 could be totally different, and could give kids another chance to engage in the social-emotional learning they missed last year alongside academic education. Either way, it's just another way COVID-19 has upended K-12 education, for better or for worse!
This article was originally published on